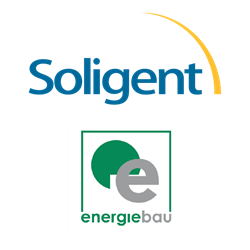 The US solar industry is primed for growth, and Soligent is excited to support local dealers every step of the way
Rohnert Park, CA, and Somerset, NJ (PRWEB) October 31, 2013
Energiebau Solarstromsysteme GmbH, a leading European value added reseller and distributor of photovoltaic components and Soligent Distribution LLC, the largest solar distributor in the Americas, are pleased to announce Energiebau's sale of its North American distribution assets to Soligent. This transaction will allow Soligent to continue to expand its strong presence in the United States while allowing Energiebau to focus on its core operations in Europe.
"Energiebau is confident that Soligent is uniquely qualified to continue to support our North American customers now and in the future," Christopher Booth, Energiebau North America's Vice President of Sales and Marketing, states. "Soligent's nationwide reach and responsiveness to meeting customers' needs will help our North American customers to continue to grow and thrive in a dynamic market."
Soligent welcomes the opportunity to provide Energiebau's North American customers with the exceptional service and competitive prices that have distinguished it in the industry for decades. Jon Doochin, Soligent's CEO, commented, "The US solar industry is primed for growth, and Soligent is excited to support local dealers every step of the way. Today's transaction with Energiebau represents one of many steps Soligent is taking to ensure that we continue to provide best-in-class solutions that meet the continuously evolving needs of dealers across the United States."
Energiebau customers will receive individual follow-up from a Soligent sales representative to ensure a smooth transition and continuous support for all of their equipment needs.
About Soligent Holdings Inc.
Soligent Distribution LLC, a subsidiary of Soligent Holdings Inc., is the largest solar distributor in the Americas, supplying thousands of solar installers and contractors with solar energy equipment, engineering services, and project financing solutions. Soligent has been a pioneer in the solar industry for decades and continues to drive the market forward with innovative solutions ranging from materials management to project financing.
About Energiebau
Established in 1983, the German company, Energiebau, is one of the leading suppliers of solar systems in Europe. The company's service oriented business model is based on one key business area: the PV wholesale market. As an efficient distributor, Energiebau provides a link between the solar industry and the solar trade. Energiebau offers a perfectly balanced product portfolio, covering all relevant market sectors and price ranges. Countless additional services provide a direct competitive advantage for customers. Energiebau also develops e-mobility design concepts, and supplies the complete charging infrastructure, including solar carports.
Soligent Distribution Contacts:
Business Contact
Mark J Laabs
Email: mark(dot)laabs(at)soligent(dot)net
Tel: 707.992.3147
Media Contact
Nadia Yavorsky
Email: nadia(dot)yavorsky(at)soligent(dot)net
Tel: 707.992.3137
Sales Contact
David Rarrick
Email: david(dot)rarrick(at)soligent(dot)net
Tel: 267.213.2582
Energiebau Solarstromsysteme GmbH Contacts:
Media Contact
Mrs. Sabine Kamisli
Email: Presse(at)energiebau(dot)de
Tel: +49 (0) 221 98966-1502
Sales Contact
Mrs. Lis Margenfeld
Email: l.margenfeld(at)energiebau(dot)de
Tel: +49.221.98966-2420