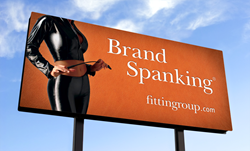 We're both client-centric organizations, with a mission to do what is most advantageous for our clients.
Pittsburgh, PA (PRWEB) November 07, 2013
Fitting Group, Pittsburgh's Brand Spanking agency, was acquired by C-leveled, LLC on November 1st.
"We've been working on projects together since this summer and it's been a great relationship," says Andrea Fitting, President and CEO of Fitting Group. "The deal makes sense for a number of reasons, but first and foremost it makes sense for our people – employees and clients of both organizations."
"When you have a chance to work with a talented group, you won't pass it up," said Denise DeSimone, Chairman/Founder C-leveled. "C-leveled is all about doing the right thing for the customer, and this synergy is right for us. I have admired Andrea and the work that the Fitting Group has delivered for a long time."
Fitting Group was founded in 1986 by Andrea Fitting and has grown organically to serve all types and sizes of clients with branding, marketing, advertising and public relations. In more recent years, Fitting Group has increasingly helped small business and mid-market Challenger Brands with a full range of branding, marketing and social media efforts.
From projects for AOL, Careerbuilder and Alcoa to agency of record relationships with regional Applebee's franchisees, the Mason School of Business at the College of William & Mary and Reproductive Health Specialists, Fitting Group has created a deep pool of experience, industry knowledge and know-how. All of that strategic and creative intelligence will now be put to good use for not only current Fitting Group clients but also the early-stage and established enterprise clients of C-leveled.
Since the summer there have been numerous achievements for C-leveled. In June, C-leveled moved to its new 20,000-square foot space in Bloomfield where it shares space with portfolio and startup companies. Shortly after the move, came the announcement of the acquisition of Fintel, a leading provider of data services, located in Wisconsin. In July, C-leveled launched HONCHO, a comprehensive data analytics, business intelligence and benchmarking software. August brought the announcement of targeted investment aimed at supporting C-leveled's commitment, and the announcement of Michael Annichine as CEO. Now with the addition of Fitting Group, C-leveled has completed its offerings to span most of the needs of small to mid-market business.
The firm's expertise includes all the key areas: strategic planning, operations, finance, access to capital, go-to-market plans, and now the full suite of branding agency services as well.
"Expansion of scope and deep domain expertise that Fitting offers will be extremely beneficial to our customer base," said Annichine.
According to Andrea Fitting, "We're both client-centric organizations, with a mission to do what is most advantageous for our clients. Denise as Chairman, Mike as CEO of the combined organization and me, still wielding the Brand Spanking whip, are only the tip of the iceberg when it comes to senior talent at C-leveled. We are excited to bring the whole team together under one roof and work shoulder-to-shoulder to braid our services into a unified stream of support for our clients."
The combined company will have about 30 employees. C-leveled is located in Bloomfield.
Fitting Group, Inc. is a branding agency specializing in Challenger Brands — companies that are not the market leader in their industry, but deserve to be so. Fitting Group provides its clients with strategic branding, advertising and public relations services.
C-leveled, LLC leads with its flagship Executives as a Service™ that positions businesses to efficiently navigate in evolving market landscapes. With tools and people that keep businesses on track, focused and growing, C-leveled caters to rapidly growing business needs from startups to business exit strategies.