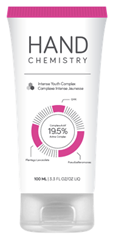 Reverse 8 signs of hand aging in only 10 days.
London, UK (PRWEB) October 31, 2013
DECIEM, the umbrella behind Inhibitif and Fountain, has launched Hand Chemistry, a brand dedicated to fighting hand aging, this week at Boots in the UK.
The brand's first and hero product, Intense Youth Complex, has been shown to reverse 8 signs of hand aging in only 10 days, making it by far the most advanced hand cream in its category. The product is available in the hand care section and on Latest Finds at Boots.
This launch represents the third brand the group has launched this year since its Founder, Brandon Truaxe, exited his last business, Indeed Laboratories (makers of Nanoblur).
For more information about this release or DECIEM, please contact Astrid de La Noue at +44.203.405.4073.