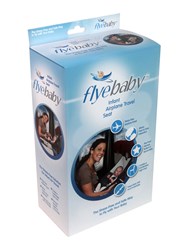 Preparing for your trip by bringing a FlyeBaby for your flight will help you relax and begin to enjoy your trip a little sooner.
Milford, CT (PRWEB) November 01, 2013
The presents are wrapped, the bags are packed but you just wish you were there already! Parents all over the world are dreading those few hours, stuck on a plane, worrying that their child will not "behave" and they will have to endure the dirty looks and comments from other travelers. FlyeBaby helps ease those concerns by giving you a free hand, and your baby a comfortable place to "hang out" during the trip. It also allows for face-to-face interaction at a time that might be stressful for both the caregiver and the child.
Some tips for Holiday Travel
Think Before You Book
Red Eyes and connecting flights may have been great time and money savers pre-baby, think twice now. Is this really the best way to travel?
Where to Sit?
The back of the plane may not be so bad after all. It's near the flight attendants and the bathroom which may lend helpful. You also won't be rushed to get off the plane, a moment when you may need to take your time.
Dress Comfortably
This goes for both you and the baby. Comfortable clothes will make it easier to fall asleep (we hope!) and will make the whole experience more pleasant.
Consider Flying on Your Baby's Schedule
Keep nap and bed times in mind when you book. Also, think about the time difference of where you're traveling, if there is one, so you'll be able to navigate the airport and any additional travel as easily as possible.
"Holiday travel is stressful enough," said Howard Greenspan, Owner of SCS Direct. "Preparing for your trip by bringing a FlyeBaby for your flight will help you relax and begin to enjoy your trip a little sooner."
FlyeBaby is a hammock-type seat that can be used on an airplane during the cruise portion of the flight as a comfortable and convenient place to put your baby. It can also attach to most dining room chairs
to serve as a portable high chair. FlyeBaby can now be found in most Toys 'R Us stores and online.
About Us
FlyeBaby is manufactured and distrubted by SCS Direct Inc. SCS Direct was founded in 1998 to develop innovative products for consumers in the United States and Internationally. The SCS team focuses on finding little-known products and ideas; continually tweaking and improving them until they are marketable. Current products include various toys, housewares, electronics, outdoor living and infant care items. SCS Direct is ranked #296 on the 2012 Inc. 500 List of America's Fastest Growing Companies. For more information about SCS Direct's unique line of products call 203.870.4867 or visit http://www.scsdirectinc.com.