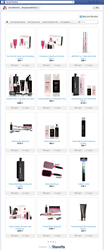 "With KeratinPerfect's growing online presence and the ever-changing technological landscape, the online Facebook store was the perfect way to complement and support both the brand and its fan following"
Boca Raton, FL (PRWEB) October 31, 2013
KeratinPerfect, the innovators behind the at-home, straight-to-consumer smoothing system, is excited to announce the launch of their online store now available on Facebook. The highly anticipated enhanced shopping experience delivered via the StoreYa e-commerce platform, provides another place to buy the full collection of KeratinPerfect's Hair Perfecting System and product portfolio for their large online fan base.
"With KeratinPerfect's growing online presence and the ever-changing technological landscape, the online Facebook store was the perfect way to complement and support both the brand and its fan following" says Kelly Matthews, Account Executive for KeratinPerfect, "With more and more shoppers buying products at home, we wanted to speed up our rollout for the holiday season."
The new KeratinPerfect Facebook Store allows fans to purchase their favorite products including bestsellers Hair BB, 3-in-1 Multi-Action Hair Beauty Balm and PerfectSmooth Blowout Booster Styling Cream, while also sharing their must-haves with their fans on all key social media platforms: Twitter, Pinterest, Instagram and YouTube. KeratinPerfect hopes to engage their followers and enhance their visibility online ultimately resulting in higher conversions.
For more information, check out http://www.keratinperfect.com or visit [http://www.facebook.com/keratinperfect.
About KeratinPerfect
KeratinPerfect has created a full line of hair and styling products and a salon-inspired smoothing treatment designed to create beautiful, healthy hair. KeratinPerfect is continually transforming the hair care industry with their salon quality treatment that is safe and easy enough to be used at home. With their proven targeted delivery system that infuses Keratin molecules deep into the hair's cortex, KeratinPerfect has created a hair smoothing system that isn't harmful like other Keratin products.