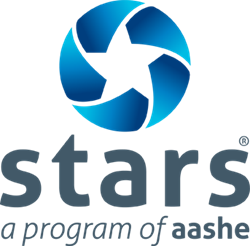 "Documenting continuous improvement in sustainable behaviors for our institution is a vitally important advancement for Ohio State Newark, and we are excited to be the first regional campus of The Ohio State University to take this noteworthy step."
Newark, OH (PRWEB) October 31, 2013
Central Ohio Technical College (COTC) and The Ohio State University at Newark (Ohio State Newark) have received recognition from the Association for the Advancement for Sustainability in Higher Education (AASHE), for their achievements toward sustainability.
STARS, the Sustainability Tracking, Assessment & Rating System, is a program through AASHE that measures and encourages sustainability in all aspects of higher education. To be considered for the association's rating, both COTC and Ohio State Newark submitted data in September about their achievements in a number of sustainability categories.
COTC's Newark Campus has received a STARS bronze rating from AASHE. Ohio State Newark has received a STARS silver rating, as did the Ohio State University Columbus campus in December 2012. With this achievement, Ohio State Newark and COTC join over 250 higher education institutions from around the world that are working to understand their environmental and social impact, identify areas of strength and weakness, collect benchmarking data, and employ strategies based on those findings. In Ohio, only eleven colleges and universities have received STARS ratings.
COTC and Ohio State Newark have a history of commitment to sustainability. For example, both institutions' leaders have signed the American Colleges and University Presidents' (ACUP) Climate Commitment; together, they developed the Newark Campus Framework Plan in 2012 which references sustainability aspects; and, both institutions are committed to a long-term energy conservation plan.
"Preparing this report has clearly highlighted our institutional strengths…and we look forward to building upon the strong foundation we have documented with the help of AASHE and STARS," stated COTC President Bonnie L. Coe, Ph.D.
AASHE's STARS program is the only one of its kind that involves publicly reporting comprehensive information related to a college or university's sustainability performance. Participants report achievements in three overall areas: 1) education & research, 2) operations, and 3) planning, administration & engagement.
"Documenting continuous improvement in sustainable behaviors for our institution is a vitally important advancement for Ohio State Newark, and we are excited to be the first regional campus of The Ohio State University to take this noteworthy step," said Bill MacDonald, Ph.D., Ohio State Newark Dean and Director.
For more information about the STARS program, visit http://www.stars.aashe.org.
The mission of Central Ohio Technical College is to meet the technical education and training needs of students and employers in the area. The Ohio State University at Newark • Be a Part of Something Great!