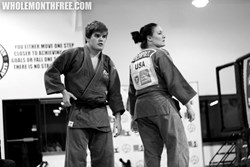 "Having Nick come to train and work with us is an incredible opportunity. He works with us on individual techniques that work well with our game, and it has paid dividends." - Tye Murphy, Jiu Jitsu World Champion
Baltimore, Maryland (PRWEB) October 31, 2013
Black Belt Nick Delpopolo, a member of the 2012 USA Olympic Team for Judo, will be coming to the Maryland mixed martial arts facility, Crazy 88 Brazilian Jiu Jitsu, from November 5-15
Crazy 88 Brazilian Jiu-Jitsu is the Baltimore area's leading producer of international Brazilian Jiu Jitsu competitors. In the past Crazy 88 has worked with Nick Delpopolo (Judo Olympian) to improve the Judo and takedown ability of the competition team and students. Delpopolo is ranked number one in the U.S. for Judo, and number five in the world. From November 5-15 he will come to Crazy 88 for daily Judo training camps.
Judo is a martial art that begins with both competitors standing. They both then attempt to take each other down to the ground using throws and takedowns in order to score points. In Brazilian Jiu-Jitsu, the matches also start on the feet, but once they hit the ground, the match continues. Even though both martial arts start on the feet, many competitors in Brazilian Jiu-Jitsu are not well versed in takedowns or takedown defense. This makes Nick's contribution all the more valuable, because the knowledge and training that he will bring is very effective for Brazilian Jiu-Jitsu competition.
Delpopolo has been training in Judo and grappling since he was five years old. His competition credentials run internationally. He has competed in multiple world championships and is the first American to win the Liverpool Cup in England. To add to that list, Delpopolo also competed in the 2012 Summer Olympics in London. Now Nick's goal is to take gold at the 2016 Olympics in Brazil.
With an athlete so well qualified on board, it is no surprise that the competitors of Crazy 88's Brazilian Jiu-Jitsu team have seen so much success. Competitors Tim Spriggs (2013 Pan American, Brazilian Nationals, and European Open Champion) and Tye Murphy (2013 World Champion) have implemented the techniques taught by Nick into their competition game plans, and it has enabled them to create a more dominant presence in the BJJ community. World Champion, Tye Murphy, said, " Having Nick come to train and work with us is an incredible opportunity. He works with us on individual techniques that work well with our game, and it has paid dividends."
For more information on Nick Delpopolo and Brazilian Jiu-Jitsu competition training in Elkridge Call: 443-283-1450 or visit http://www.BaltimoreMixedMartialArts.com
For information on training in Owings Mills Call: 410-999-1064 or visit http://www.Baltimore-MMA.com