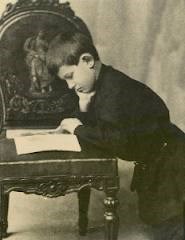 I hope to explain what intelligence is, why we should value it and how we should think about it.
(PRWEB) November 02, 2013
The first episode in Adam Alonzi's series on history's greatest geniuses premieres on November 4th. The episode chronicles the life of William James Sidis while exploring the topics of precociousness, pedagogy and the ongoing debate between naturists and nurturists.
By the time William Sidis was two he could read English and, at four he was typing original work in French. At the age of five he had devised a formula whereby he could name the day of the week for any given historical date.
At eight he projected a new logarithms table based on the number twelve. He entered Harvard at the age of twelve and graduated cum laude before he was sixteen.
Mathematics was not his only forte. At this age he could speak and read fluently French, German, Russian, Greek, Latin, Armenian and Turkish. During his first year at Harvard University the boy astounded students and scientists with his theories on Fourth Dimensional Bodies.
Although he showed great promise and published numerous books under various pseudonyms he worked menial jobs his entire life. Yet he is considered one of the most brilliant people who has ever lived.
Future documentary subjects will include Swedenborg, Goethe, Da Vinci, Francis Galton, Johann Von Neumann, Averroes and other lesser known polymaths as well as opposing views of different academics on the true nature of intelligence.
Combining a historical perspective with cutting edge neuroscience, Mr. Alonzi hopes to "explain what intelligence is, why we should value it and how we should think about it...Sidis's story is a testament to the teaching methods of his father and a cautionary tale of the damaging effects media exposure can have on young people."