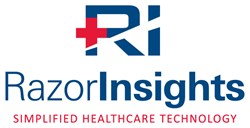 "We are honored to make this prestigious list," Reed Liggin, CEO of RazorInsights.
Kennesaw, GA (PRWEB) November 05, 2013
RazorInsights, LLC, a leading provider of health IT solutions for Rural, Critical Access and Community hospitals, today announced that its single-database ONE Enterprise HIS Solution has made Medical Economics magazine's Top 100 List. Medical Economics, the top business publication for physicians in the United States, released a report on October 25, 2013, ranking the top 100 health information technology (HIT) companies with complete electronic health records (EHR) systems.
An estimated 729 U.S. healthcare vendors offer EHR systems targeting healthcare providers. The companies on the Top 100 List were recognized for their product development, innovation and the ability to meet the next challenges of interoperability posed by the Office of the National Coordinator for Health Information Technology's (ONC) EHR incentive program for Meaningful Use 2.
"We are honored to make this prestigious list," commented Reed Liggin, co-founder and CEO of RazorInsights. However, more importantly, we are pleased with our acceptance by Rural and Critical Access hospitals. RazorInsights has gained immediate trust by our hospital partners, who use our truly-integrated enterprise HIS and EHR solutions," Liggin added.
RazorInsights' ONE solution helps rural and CAH hospitals transition to a more efficient and safer clinical environment. The ONC-ATCB certified solution's intuitive design allows administrators and clinicians, with limited technical skills, to quickly transition to the new system, and ONE's innovative use of cloud technology results in ongoing, seamless upgrades. Hospitals using the scalable solution simply maintain a low, all-inclusive monthly subscription with RazorInsights, alleviating the need to purchase and maintain expensive servers and eliminating the requirement to purchase costly software licenses.
About RazorInsights:
Based in Kennesaw, Georgia, RazorInsights is a dynamic healthcare information technology company. In keeping with the principle of Occam's Razor, they have created a simplified HIS solution for Rural, Critical Access and Community hospitals. Introducing ONE — a single-database, cloud solution offering a simple user experience with cutting-edge clinical tools and industry-standardized data. Hospitals can expect to improve their performance and bottom line with ONE from RazorInsights. For more information, visit http://www.razorinsights.com or call 770-308-4111.