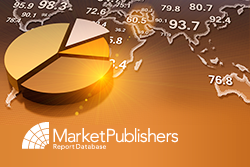 London, UK (PRWEB) November 01, 2013
Nowadays, mass spectrometry (MS) represents one of the most rapidly-growing fields of analytical instrumentation. MS's increasing popularity is spurred by its ability to provide (in most cases) verifiable molecular weights, thus ensuring the positive identification of known molecules. Currently, there are around 18 specified ionization methods and 7 specified fragmentation methods used in MS. The technique is used for multiple applications across different fields, including biotechnology, clinical, chemicals, defence, environmental, energy, food and drink, geology, forensics, healthcare, pharmaceuticals, natural products, security, university/institute.
In 2011, the US and Canada led the global MS market in terms of sales activity, together accounting for over 38% of the overall figure. The nations were followed by Europe with around 31% share of the world MC sales. In the same year, pharmaceuticals and biotech, government, academia and environmental/general testing were the leading industry end-use sectors with the highest sales activity. The MS areas are forecast to witness considerable innovation in the upcoming years.
In-demand research report "Mass Spectrometry 2013: A Focus on Sales Growth" worked out by Biopharm Reports has been recently published by Market Publishers Ltd.
Report Package Details:
Title: Mass Spectrometry 2013: A Focus on Sales Growth
Published: February, 2013
Pages: 262
Price: US$ 2,905.00
http://marketpublishers.com/report/medicine_pharmaceuticals_biotechnology/drugs_biotechnology/mass-spectrometry-2012-a-focus-on-sales-growth.html
The research study reviews the current and emerging MS areas with a particular focus on sales dynamics, market development as well as commercial opportunities. The report is an essential source of vital business information for key players in the field. It offers in-depth analysis of current practices and future developments across 25 key MS market areas. The research study provides a thorough review of the major MS techniques, uncovers important data on the main MS applications, discloses details on the key participants in the MS markets, traces the most recent developments and also outlines the major opportunities in the MS field. Moreover, the report discusses the prospects for the development of the MS markets in the upcoming years.
Reasons to Buy:

The report enriches knowledge of the MS space by covering the current MS technologies and major applications.
The study profiles current and evolving areas of the MS field with a particular focus on sales growth, market development and commercial opportunities, thus allowing one to make informed business decisions.
Valuable product and market information assist in planning effective market strategies.
Market future outlook shows how the MS areas are set to develop in the years ahead.
More insightful research reports by the publisher can be found at Biopharm Reports page.