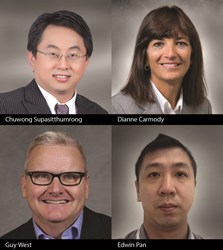 Valley Forge, PA (PRWEB) November 01, 2013
Houghton International, a global market leader of metalworking fluids, specialty hydraulic fluids and services, has announced new leaders in marketing and sales in its Valley Forge headquarters and its offices in Singapore and Thailand.
Houghton welcomes Dianne Carmody to its Valley Forge headquarters as Director of Marketing for the Americas region, responsible for marketing and strategy initiatives in the region with functional oversight and responsibility for product management, pricing and margin management, and marketing communications. Prior to joining Houghton, Ms. Carmody held several key commercial roles in her 30 year career at Rohm and Haas Company (acquired by The Dow Chemical Company in 2009), providing expertise in product innovation, pricing and margin optimization, and strategic marketing across a diversified chemical product portfolio. Ms. Carmody holds a Bachelor of Science degree in chemical engineering from Lehigh University.
Houghton also welcomes Guy West to its headquarters office as Director of Sales, North America, responsible for growing revenue through a well aligned approach to sales, leveraging the knowledge and expertise of important departments at Houghton, including marketing, strategic account management, Fluidcare, Research & Technology, and customer service. Prior to joining Houghton, Guy held key roles within Ashland Inc./Hercules Inc. over a 30 year career, during which he held a wide range of sales, support, manufacturing, supply chain and general management roles in North America and Europe. Guy holds a Bachelor of Science degree in chemical engineering from the University of Dayton and has completed development courses in general management, executive leadership and finance.
Chuwong Supasitthumrong joins Houghton as Managing Director in its Thailand office, where he will be responsible for growing sales, market share and profitability in Thailand and Vietnam. He spent the past 13 years in key sales and marketing roles at Nalco, most recently as Regional Sales Manager in South Asia, Korea, Papua New Guinea, Australia and New Zealand. Mr. Supasitthumrong holds a bachelor's degree in chemical engineering from Chulalongkorn University, Bangkok and a master's degree in chemical engineering from University of London Imperial College.
Houghton also welcomes Edwin Pan to its Singapore office as Sales Manager – Singapore, Malaysia & Indonesia, where he will manage the sales team and distributors to drive profitable growth and increase market share. Prior to joining Houghton, Mr. Pan held a key regional sales manager position with Blaser Swisslube, where he was responsible for developing business in southeast Asia, including direct sales in Singapore and business development through distributor channels in key emerging markets. He holds a diploma in electronics, computer and communication engineering, and an advanced diploma in strategic marketing from Singapore Polytechnic. He also holds a bachelor of science in business administration from University of Wales.
"We are pleased that these talented industry leaders have joined Houghton to help execute our plan to increase global revenue and market share," says Jeewat Bijlani, Vice President, Global Marketing, Business Development and Strategic Planning. "Their critical skills in sales and marketing management will support Houghton's ability to reach and partner with global manufacturers and improve our operations at local customer sites."
About Houghton International Inc.
Since 1865, Houghton International Inc. has been serving the metalworking, automotive, and steel industries, along with a variety of other markets including the offshore oil exploration and production industry, with the development and production of specialty chemicals, oils and lubricants. Headquartered in Valley Forge, Pa., Houghton maintains manufacturing and research facilities throughout the world. Houghton International continues its focus to expand its customer service operations and grow its worldwide facilities. Visit http://www.houghtonintl.com or http://www.twitter.com/houghtonintl.
###
Houghton International, Inc.
Madison & Van Buren Aves.
P.O. Box 930
Valley Forge, PA 19482-0930