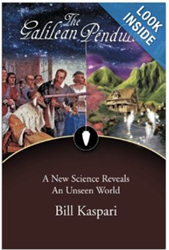 Mainstream science teaches the concept that there is only a physical world. Using what I call 'new science', I show that there must also be a non-physical world.
San Francisco, Calif. (PRWEB) November 05, 2013
Will non-religious members of society ever embrace the idea of an afterlife?
Like many parents who have experienced the heartbreaking loss of a child, Bill Kaspari felt hopeless and depressed after his son John was killed. He began to search for answers to the age- old question, "what happens when we die?"
Kaspari is not religious, so he pursued answers using scientific methods of analysis. He came to the inarguable conclusion that we do survive the death of our physical bodies. He details his findings in the new book, "The Galilean Pendulum."
"My book gives a new perspective on what life is really about," Kaspari said. "It not only provides evidence supported by scientific studies that we survive bodily death, it also paints a picture of what I believe life in the hereafter is like, based on these studies."
"The Galilean Pendulum details Kaspari's 20-year search for answers and ways in which he was able to cope with John's tragic death. The book poignantly weaves together science and spirituality in an area where they often clash.
"Mainstream science teaches the concept that there is only a physical world," Kaspari said. "Using what I call 'new science', I show that there must also be a non-physical world."
"The Galilean Pendulum: A New Science Reveals an Unseen World" By Bill Kaspari
ISBN: 978-14817-0983-5
Retail price: $19.95
Available at: authorhouse.com
About the Author
Bill Kaspari is a retired engineer and businessman. He currently sits on the scientific advisory board of the Forever Family Foundation and the advisory committee of The Windbridge Institute and enjoys spending time with family and friends. In his spare time he runs masters track and continues to research new developments in the emerging field of paranormal science. Kaspari currently resides in Portola Valley, California. For more information, please visit understandingafterlife.com
###