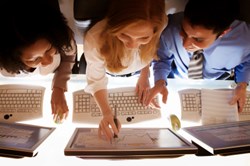 To maximize your efficiency in converting good orders while catching fraud you should ensure you have multiple tools for performing authentication and verification in your manual review process.
Sarasota, Florida (PRWEB) November 06, 2013
Merchants often ask The Fraud Practice at this time of year: "what else can I do to prepare my risk team for the holiday season"? In response to that question, The Fraud Practice typically encourages merchants to focus on good core training for their staff as well as setting up online accounts to perform one or more of three complimentary authentication techniques in manual reviews.
The Fraud Practice recommends authentication techniques because they can be put in place with no coding or integration, they can provide actionable data in a real time setting and they are easily understood by manual review risk personnel. For best results merchants should consider implementing more than one technique, so they can put in place an escalation path if one method isn't able to authenticate a consumer; merchants should want their review team to have a secondary option – and that option should not be the same technique with just another data source.
For many merchants, the manual review is the last line of defense to catch fraud, and the last opportunity to try and avoid turning away a good customer. Manual reviews during the holidays can be very problematic for a number of reasons, notwithstanding the most obvious of which, the impracticality for many merchants to conduct manual reviews on such a large volume of transactions in a short duration. Manual reviews during the holidays are also problematic because they rely heavily on "people" skills to make the right decision on the risk of a transaction and many e-commerce businesses hire seasonal help each year to keep up with the increased volume in November and December, and this help typically has less expertise in fraud detection. In terms of the physical act of conducting manual reviews, reviewing the transaction details and performing link analysis are still at the core of any manual review, but during the holidays there is a stronger need and reliance on being able to authenticate and verify a consumer's identity.
To maximize efficiency in converting good orders while catching fraud, merchants should ensure they have good tools for performing authentication and verification in their manual review process. According to David Montague, founder of The Fraud Practice, "This doesn't infer merchants need to manually review every order or that they need these tools on every review, what it means is merchants want them for those transactions where they don't have enough information to make a decision. Audit your company to see what tools your review personal have available to them. Find out how many different tools they have."
The Fraud Practice would encourage merchants to have tools in place to perform strong authentication from different data sources to ensure they have maximum coverage. Three authentication techniques to consider are: reverse lookups, email authentication, and identity document or payment card verification. You can learn more about these 3 different authentication methods by reading our full article.
About The Fraud Practice
The Fraud Practice is a privately held US LLC based in Sarasota, Florida. The Fraud Practice provides consulting services on eCommerce payments, fraud prevention and credit granting as well as prepared research and online training for payment and fraud professionals. Businesses throughout the world rely on The Fraud Practice to help them build and manage their payment, fraud and risk prevention strategies.
The Fraud Practice LLC
5525 Office Park Boulevard Suite 107
Bradenton, FL 34203-3443
Direct: 941.244.5361
http://www.fraudpractice.com
http://www.cnptraining.com