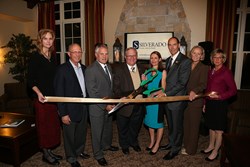 Brookfield, WI (PRWEB) November 04, 2013
On Tuesday, October 29, Silverado Brookfield — a state-of-the-art memory care community — celebrated its grand opening. The celebration for the new 45,525 square foot community was attend by more than 300 people from throughout the Brookfield area. The event included a special video message from Wisconsin Governor Scott Walker, a personal visit from Brookfield Mayor Steven V. Ponto and a welcome from Silverado leadership — including Silverado's President, CEO and memory care innovator & visionary Loren Shook. Attendees enjoyed community tours, live music, hors d'oeuvres and refreshments. Silverado Brookfield, which will add nearly 100 local jobs and serve up to 95 residents, is located at 1105 Davidson Road, Brookfield, WI 53045.
For more information you can see a full press release and meet the first resident here: http://bit.ly/1f1UJyA .
About Silverado
Silverado was founded in 1996 with the goal of enriching lives of those with memory loss by changing how the world cares for and perceives the cultural stigma of cognitive decline. With locations in eight states, the company delivers exceptional care and unmatched service to address the spectrum of changing needs, for individuals and families alike. To learn more, visit silveradocare.com.