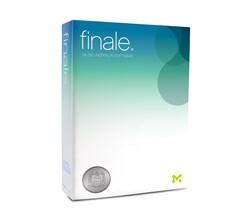 "We are passionate about what we do and so is MakeMusic. With the release of Finale 2014, that passion is on full display and we are excited to share it with the world." - Ron Manus, Alfred Music CEO
Los Angeles, CA (PRWEB) November 05, 2013
Alfred Music and MakeMusic, Inc. continue to strengthen their partnership by announcing the world-wide release of Finale 2014. For 25 years, musicians around the world have relied on Finale to create, edit, audition, print and publish sheet music. After two years of research and analyzing customer feedback, the highly-anticipated release of Finale 2014 is available to musicians throughout the world.
Now more flexible and easier to use, Finale 2014 offers for the first time ever backward and forward compatibility—allowing users to save files that can be opened directly in the previous version. Improved Apple OS X support produces a new look and time-saving workflow features like pinch zoom and native full screen support. Enhancements in Linked Parts gives users more control in the way the music appears visually in the score, versus the way the music appears as parts. Keyless scores can be quickly created for all instruments, or applied on a per-instrument basis. Rests and accidentals in layers now automatically combine, removing the need to manually apply each change. Educators will enjoy more than 1,500 music education resources, including worksheets, flashcards, and more.
In addition, dozens of new instruments have been added to Finale 2014. These instruments join the robust Garritan library that is already included with previous versions of Finale. From Alto Flute to Tubular Bells, these new additions were selected from several Garritan libraries, including Personal Orchestra, Jazz & Big Band, World Instruments, and Instant Orchestra.
"We are thrilled to be the exclusive distributor of Finale 2014, the gold standard in music notation software," said Ron Manus, Alfred Music CEO. "Finale has been our in-house engraving application since it was introduced 25 years ago because we can't afford to use anything but the very best. Our new partnership with MakeMusic makes it even easier for us to help the world experience the joy of making music. We are passionate about what we do and so is MakeMusic. With the release of Finale 2014, that passion is on full display and we are excited to share it with the world. We couldn't be happier."
Finale 2014 is now available for purchase world-wide in retail music stores and at http://www.alfred.com/finale.