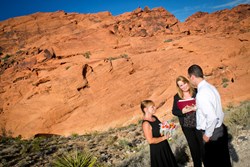 Getting married in Las Vegas is so affordable and so memorable. My service is generally only $250.
Las Vegas, Nevada (PRWEB) November 06, 2013
RevJo was the winner of the Best New Celebrant/Officiant Worldwide, Top 10 Best New Celebrant/Officiant – World, Top 100 Best New Celebrant/Officiant – World by The American Council of Wedding Officiants in 2013.
Rev. Jo is a long time Las Vegas resident and has personal knowledge and use of local vendors, and can provide many different services for her couples. From the very first meeting with the couple (or if they are out of state, phone calls, emails, etc.), getting to know each bride and groom, learning of the love story they share to help to create a truly memorable wedding. The couple's vows can be anything from traditional, romantic, funny and maybe even include other family members, whatever they want.
Jo stated, "Getting married in Las Vegas is so affordable and so memorable. My service is generally only $250."
In Las Vegas, one really can get married anywhere; the couple is not limited to the Wedding Chapels and/or Hotel Chapels, or their packages. If there is a place that means something special to the couple and they want to be married there, then that's where they should get married and Rev. Jo is thrilled to be able to provide this service to her couples.
Las Vegas is often dubbed the "wedding capital of the world" for good reason. According to Wikipedia, approximately 115,000 marriages will be performed in the desert love destination. The ease of acquiring a marriage license and minimal costs are very attractive to most seeking a quick and easy solution to their nuptial needs.
Nevada marriage licenses are notoriously easy to get; there is no blood test or required waiting period. Las Vegas has streamlined the process further. Once a short form is completed and submitted to the marriage license bureau along with $60 cash and a government issued photographic identification, a marriage license may be obtained within minutes until midnight every night. Within one year of receipt of the marriage license a wedding ceremony must be performed in order to have a legal union, and marriages are legal and binding worldwide.
So if the marriage bug bites, be sure to consider Las Vegas and call Reverend Jo McKittrick at 702-302-6408 or visit her new website at http://www.weddingbellsinvegas.com.
References
1. "County Clerk – Marriage Licenses". Clark County, Nevada. Retrieved May 30, 2012.
2. Choate, Alan (January 10, 2008). "Fewer going to the chapel". Las Vegas Review-Journal. Retrieved March 8, 2008.
3. "County Clerk – Civil Marriages". Clark County, Nevada. Retrieved November 27, 2012.