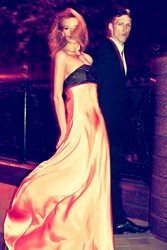 SupermodelClub.com does not do average.
(PRWEB) November 07, 2013
SupermodelClub.com is set to make a huge splash on the wealth meets beauty dating scene. Their strict new member requirements and modern approach to the millionaire dating niche is set to reel in the "too cool for dating sites crowd"; exactly the type who are considered the ultimate catch by many.
New millionaire dating site SupermodelClub.com has launched exclusively for the wealthy and beautiful dating community seeking to meet the creme de la creme of singles.
When drop-dead gorgeous meets incredibly wealthy - a win-win relationship dynamic.
Limited free time is one of many reasons wealthy and successful people go online to find their partners. The Supermodel Club team personally approve every new member admitted to the model and millionaire dating site ensuring that their wealthy and beautiful members don't have to waste precious time trawling through endless inappropriate profiles.
"Supermodel Club does not do average. Wealthy members must earn in excess of US$100,000 p/a. Beautiful members will need to be 8s, 9s or 10s in the looks department. Only a small percentage of those who apply to join Supermodel Club are successful and every new member is approved personally," says Eleanor Evans, founder of Supermodel Club.
The strict selection criteria for both men and women guarantees that the Supermodel Club database is packed full with the most eligible singletons worldwide. Supermodel Club appeals to people who are accomplished, highly-selective and uncompromising when it comes to their social circle and romantic affairs.
Aimed at fashionistas, the filthy rich and unapologetic in its elitist approach, new online dating website SupermodelClub.com encourages people to aim high in their online search for love and only accept the best. Elite dating is simply the smart choice for those who want more out of life and their partner.
It is 100% free to register, create a profile and begin searching.