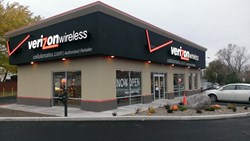 We've seen a great customer response in the Buffalo area, so much so that we've needed to expand in order to keep up with demand.
Buffalo, NY (PRWEB) November 06, 2013
Cellular Sales, the nation's largest premium Verizon Wireless retailer, with approximately 570 U.S. locations, announced the grand opening of a new store at 701 Orchard Park Road in West Seneca.
The new store, which opened on Oct. 19, is located on the corner of Ridge Road and Orchard Park Road across from the Wendy's near West Seneca West Senior High School. It is expected to create 10 jobs.
"We've seen a great customer response in the Buffalo area, so much so that we've needed to expand in order to keep up with demand," Luke Fletcher, regional director at Cellular Sales, said. "We place a high priority on customer service, and that seems to resonate with people."
According to research conducted by Oracle, quality of customer service plays a major role when consumers decide to switch mobile providers, even more so than network coverage or device options.
Cellular Sales offers easy-to-understand wireless plans and highly trained customer service representatives walk customers through the activation process while in the store.
"The process of selecting a new wireless plan, choosing a new phone and activating service on a new device is intimidating to some people," said Tim Blackburn, regional director for Cellular Sales. "We work hard to keep our plans simple and easy to understand. And we handle the entire activation process so you don't have to."
Modern consumers are focused on best-in-class technology and getting the best deal for their budget. Cellular Sales focuses on offering a one-to-one sales experience that takes the mystery out of wireless shopping and simplifies the experience for consumers.
"We understand that mobile devices plan an important part in the lives of most Americans," Dane Scism, founder and CEO of Cellular Sales, said. "From email and shopping to staying in touch with your kids, technology is always at your fingertips. Our pledge is to make wireless shopping as fun and helpful as possible. At the end of the day, it's all about the customer."
About Cellular Sales
Headquartered in Knoxville, Tenn., Cellular Sales was founded in 1993 and was named by Inc. Magazine as one of the nation's fastest-growing privately owned retailers for five consecutive years. The company currently employs nearly 4,500 people and operates more than 560 stores nationwide. Job seekers may call Cellular Sales Recruiter Jason Alexander at 615-788-9634 or visit the Cellular Sales employment page to search current openings at the West Seneca location. For more information on the company, visit cellularsales.com.
# # #