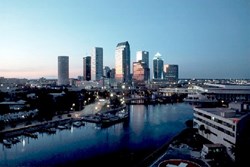 The Tampa Bay dining experience is about to get even more enticing.
Tampa Bay, Florida (PRWEB) November 05, 2013
The Tampa Bay dining experience is about to get even more enticing. Three known and highly celebrated restaurateurs in the area are all cooking up ways to expand their success.
Curtis Beebe, who owns Dade City's Pearl in the Grove, will open the doors to Local Public House in January. Local Public House will be a casual gastro-pub, which will feature fire pits, a beer-friendly menu including things like burgers and stuffed-to-the-max po' boys, and wine by the keg which is a new trend aimed at controlling cost and limiting waste.
Jason Fernandez, owner of Bernini, Carne ChopHouse, has taken over a defunct business in Ybor City, which was called Tequilas. Fernandez has plans to give the place a face-lift and debut a new version of Tequilas (same name), offering customers the option to build-their-own burritos and tacos. Tequilas will be able to accommodate over 200 patrons between outdoor and indoor seating and will feature a take-out window for those on the go and an extensive list of varying tequilas.
Gordon Davis, who owns several eateries in South Tampa, including Ciro's Speakeasy and Supper Club and Boca Kitchen Bar Market, will be opening a new restaurant next April inside Le Meridien Hotel. The French eatery will be called Zazou, and aims to mirror a classic French brasserie, offering a relaxed vibe for upscale taste buds.
Tampa Bay area residents dining and entertainment offerings were already plentiful and top notch. The announcement of these additions simply puts the icing on the cake for all who call Tampa Bay home and for those who pop into the area to take advantage of the sweet life.
Tampa Bay is a large, natural harbor and estuary along the Gulf of Mexico on the west coast of Florida. The area landscapes include shallow waters, sea grass beds, mud flats, and an abundance of mangrove wetlands, providing a home for a wide variety of wildlife, comprising fish, dolphins, manatee, and over two dozen species of birds – a nature lover's paradise.
Close to 350,000 people call Tampa Bay home, with the population increasing each year. Tampa offers several new construction communities to accommodate the ever-growing number of people drawn to the area. With built-in amenities like these, coupled with the year-round warm and sunny climate Florida is so well known for, plenty of other entertainment and sporting events hosted in the area, an abundance of family-friendly activities, and the additional charm of surrounding cities and towns, it is no surprise that Tampa real estate and the area in general are booming.