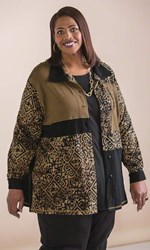 Beauty comes in all sizes, and all plus-size women deserve high-quality, natural fiber clothing designed to flatter their curves. - MiB CEO Tracy Amiral
Cotati, California (PRWEB) November 12, 2013
MiB Plus Size by Making it Big inc., the only company in the world that offers high quality plus-size fashions exclusively in sizes 2X - 8X, has named the winner of its 2013 Plus Size Model Search. Judy Austin of St. Louis, Missouri was picked for her dazzling smile and striking camera presence, according to MiB CEO Tracy Amiral. "We received hundreds of entries from gorgeous plus-size women," said Amiral. "But Judy Austin stood out from the crowd."
Austin said she was shocked to learn she had won the MiB Plus Size contest. "I can't believe this is true." Her message to the plus-size community is "Love yourselves! Beauty comes in all shapes and sizes. Don't think of it as only being like a stick!"
Austin is a full time teacher who loves animals and enjoys singing. She had never modeled before. As the 2013 Model Search winner, MiB flew her to the company's California headquarters in July to model in a photo shoot for the Winter Collection catalog, which was delivered to customers' homes starting October 28.
"You made be beautiful!" said Austin in July, getting a bit choked up when looking at photos from the shoot. I can't believe what I look like! It's just amazing. I'm overwhelmed." In addition to being featured in the MiB Winter catalog, Austin received $500, all hotel and airfare expenses and a professional hair and makeup consultation.
"We got a little misty-eyed, too," said CEO Amiral. "That's our mission in a nutshell - to help plus-size women feel and celebrate their beauty." Amiral concluded, "Judy did a fantastic job showcasing our Winter Collection, and we can't wait to get feedback from our customers about the catalog. The overwhelmingly positive response to our Model Search proves that beauty comes in all sizes, and all plus-size women deserve high-quality, natural fiber clothing designed to flatter their curves."
About MiB
MiB Plus Size by Making it Big, inc., is the only company in the world that offers plus-size fashions from mostly natural fiber clothing to women at every point on the plus-size spectrum. The company's commitment to delivering the perfect fit and sensational style to women size 2X - 8X is unwavering, as is its dedication to social and environmental responsibility. The company has been in business 30 years, has over 40,000 customers and ships to 36 countries. All of MiB's styles are exclusive to MiB and made to their exacting specifications to ensure the best fit for the upper plus size woman.
To see Judy's before and after shots and read her full story, go to http://www.makingitbig.com/meet-judy.
To receive the MiB Winter Collection catalog, please visit http://www.MiBplussize.com.