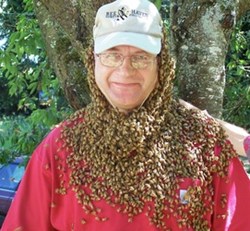 You have to be a little different to be a beekeeper. You just don't want to be overqualified for the job. – Connie Bueler
Snohomish, WA (PRWEB) November 07, 2013
Bee Haven Honey invites shoppers to attend their 11th annual Open House on November 29, 30 and December 1, 7, 14 from 10:00am – 5:00pm.
Attendees will enjoy local hot spiced apple cider and homemade cookies. Items available for purchase are honey, soap, candles, hand cream, plus holiday extras such as hand knit items and homemade wreaths. There will be daily giveaways and a grand prize drawing.
Farmers Tim and Connie Bueler raise cattle, grow vegetables, and dabble in woodworking and basket-making. Their main business is Bee Haven.
"We've been producing 100% pure, 100% raw, 100% natural honey since 1998. Our bees also provide us with 100% pure beeswax which we use to produce candles, hand creams, lip balm and hand-crafted soaps. Our Farm Stand is open from dawn to dusk daily and we accept cash or checks. You can find us at 7914 69th AVE SE, Snohomish, WA 98290 (aka: Swan's Trail Road)."
Both Tim and Connie are graduates of a master beekeeping course from B.C. Ministry of Agriculture at Simon Fraser University. Tim holds a Journeyman certification through the Washington State Beekeepers Association and Washington State University. A former area representative for Washington State Beekeepers, Tim has also served as Secretary of the Master Beekeepers.
Bee Haven's Open House accepts checks, cash, debit and credit cards. If you are unable to visit Bee Haven Farm during the Open House, the Buelers encourage you to call 425.334.9684, as they will be set up for shopping through Christmas Eve. For more information about Bee Haven Honey, visit their website.