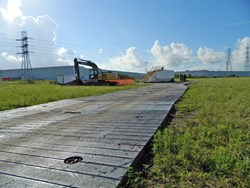 Beaumont, Texas (PRWEB) November 07, 2013
Quality Mat Company is pleased to announce its latest design: a synthetic ECOmat that offers a wide range of benefits beyond those of the existing composite mats. Improving these industry favorite ground protection mats was an immense task, but the Quality Mat team took decades of experience combined with the latest technology to create a synthetic mat fit for almost any application.
The new ECOmat composite mat is different from its predecessor in a number of ways. It does not have a hollow core, thus reducing the transport of harmful chemicals from work site to work site. This critical function prevents fluids and other contaminants from being transferred between landfills and burn sites. The segmented nature of the ECOmat also allows for construction of mats to any size, thickness, or diversity of materials necessary. These features allow Quality Mat to create a mat that minimizes accidents and provides a safe and stable work surface for both heavy equipment and employees.
Quality Mat designed the ECOmat as a proprietary blend of mineral and plastic. Every composite mat is made of approximately 50% recycled material. That translates into 1200 pounds of recycled goods that will not end up in a landfill. Because the ECOmat is built from recycled materials, it is designed to be recycled itself at the end of its life – keeping the mats themselves out of the landfills.
Onsite, the new ECOmat design offers increased foot traction, reduced open spaces on the pad site, and minimal cleaning as a result of the mat's closed gap nature. Because the composite mats are bolted instead of nailed together, issues with flat tires on the job site have also been eliminated. The mats are a static resistant, slip resistant, and anti-slip for increased overall safety. All new composite mats even meet the criteria for a Class 2 (B) rating according to ASTM E 84 for flame spread.
With the addition of the ECOmat composite mats, Quality Mat Company continues to set the benchmark for the rest of the industry to follow.
About Quality Mat Company
The Quality Mat Company has been an industry leader since introducing the interlocking mat in 1974. Based in Beaumont, Texas, Quality Mat has become one of the largest producers of ground protection mats in the industry.