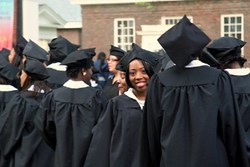 "Civica believes that students from disadvantaged schools have the same potential to do well on the SAT/ACT as their more advantaged counterparts." - Sean Stevens, Civica Global Associate
Washington, District of Columbia (PRWEB) November 06, 2013
Civica Global Admissions Consulting announced today that it is offering seminars at local underrepresented schools beginning in the 2013-2014 school year. These seminars aim to expose school counselors and coaches to the "Civica Global" approach, which is geared toward personal branding and matching the student with the appropriate collegiate institution based on their academic and personal interests. From beginning to end, Civica Global is dedicated to helping students get into college, financing their education, and getting students acclimated to college life. According to Civica Global's CEO Ashley Baker, "It is important to every student to know that admissions into the right college for them is attainable."
Through the week-by-week program described in Baker's "Six Weeks to Success: College Admission Secrets and (Un)Common Application Strategies Revealed", every factor in the admissions process is tailored to the individual student, regardless of background.
According to Civica Global Associate Sean Stephens, "Civica believes that students from disadvantaged schools have the same potential to do well on the SAT/ACT as their more advantaged counterparts." Civica Global remains excited to partner with more schools and make the college application process as streamlined as possible for students throughout the world.
You can find more information about Civica's six week process at: http://www.civicaglobal.com/ To request a seminar by a Civica Associate, email info(at)civicaglobal(dot)com.