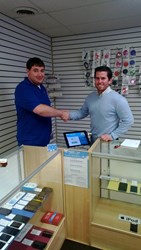 RewardMyWay's platform will allow Cell Phone Repairs to stay out in front and be top of mind for our clients. Delton Dowker, Owner, Cell Phone Repairs
Nashville TN (PRWEB) December 02, 2013
RewardMyWay (RMW) is the premier omni-channel marketing solution. Designed for forward-thinking merchants looking to reach existing and prospective customers with a full-cycle social, mobile and loyalty technology platform. RewardMyWay is the only customer reward program that enhances revenue opportunities through dynamic social media marketing offerings. It also provides unmatched face-to-face customer service and support for its clients.
RewardMyWay's platform allows merchants to increase customer visits through rewards and special offers, drive mobile transactions and improve retention all while increasing revenue. Merchants featured on RewardMyWay will have customized loyalty plans unique to their businesses marketed via social commerce tools that build online exposure and provide realtime cash visibility into purchases.
With two convenient locations in Clarksville, Cell Phone Repairs looks to expand its reach throughout nearby communities through their highly regarded reputation for customer service and renowned customer satisfaction reviews. Cell Phone Repairs recently partnered with RewardMyWay because they felt the RewardMyWay platform complimented their approach. Offering a more effective way of collecting important data to re-market to existing customers, reach new customers through the RMW family of merchants, and to reward loyal customers with special discounts for their continued business.
Delton Dawker, Owner of Cell Phone Repairs said, "We are honored to have recently been voted best cell phone repair shop in Clarksville. We have partnered with RewardMyWay to continue to solidify our position as Clarksville's go to shop for cellular and tablet repair, device unlocking, accessories, and cellular service. I strongly believe the RewardMyWay e-commerce solution will allow Cell Phone Repairs to stay out in front and be top of mind for our clients when it comes to their mobile needs."
Alex Heidebreicht, Social/Mobile Marketing Specialist for RewardMyWay stated, "Delton is a great guy and we are thrilled to have him and Cell Phone Repairs as a partner. His progressive approach to taking care of his customers while marketing his products and services makes him ideal for maximizing the advantages of our RewardMyWay platform."