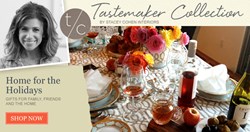 For the last decade, every man in my holiday world got a shirt of some sort. It turns out, guys are great to get gifts for. I am excited to be offering sleek trays, rustic clocks and stunning barware. - Stacey Cohen
(PRWEB) November 06, 2013
Home for the Holiday Flash Sale marks the premiere curated partnership with Stacey Cohen Interiors and Arcadian Home. With an announcement of curated collections quietly taking backstage, Cohen feels the holidays will shine brightly with a focus on family and gift giving.
The interior design Home for the Holidays Flash Sale Runs Nov. 6 - 12 online at shop.staceycoheninteriors.com
A weeklong celebration of holiday ideas will accompany the Holiday Flash Sale. The team at SCi has been creating ideas around Gifts for Guys, Winter Whites, Gorgeous Golds and Silver Bells. Hot for the season are silver and gold accents, the more, the merrier. "I love clustering in monochromatic and metallic tones." - Cohen
"For the last decade, every man in my holiday world got a shirt of some sort. After ten or so years, I have exhausted all styles to give. It turns out, guys are great to get gifts for. I am excited to be offering sleek trays, rustic clocks and stunning barware." - Cohen
Holiday for the Home is traditional gift giving with a twist: one that includes your home. 'Tis the season for entertaining and we know it all starts with a beautiful backdrop. Select dining tables, chairs, cheese trays and chandeliers are offered in the sale to get the table ready for the festive season.
Some easy tips for Decorating your home for the holiday season:

Pick a base color to use in every room and setting, best colors this time of year are: silver, gold and white.
Go daring with a bold accent color. while many go with the safe green, red or blue, have fun and go bold with orange, purple or dramatic black.
Designate areas for different activities so traditions are easily made and followed as years to come. Beyond the placement of the gifts, think about a designated punch bowl and appetizer station, a holiday crafts area and a snuggle station for curling up with holiday classics.
A tastemaker, trendsetter and story-teller, Cohen's style and collections begin in the past, are given in the moment and thoughtfully planned into the future. The Holiday Collection pulls from and parallels her signature furniture collections, all of which narrate universal themes from holidays spent in New York, Chicago, Detroit, Miami and LA.
Quietly and successfully building a lifestyle brand and recognized as a leader in niche circles, Stacey Cohen Interiors, SCi, continues to gain momentum with her move from Chicago to Los Angeles. While the winter climate may have changed, her love of the holiday's has stayed true to extensive gift giving and priding herself in a her signature metropolitan taste and style.
Stacey Cohen is an Los Angeles-based Interior Architect, Designer and Principal of Stacey Cohen Interiors, SCi, with clients in Chicago, New York, Detroit and LA. Actively influencing current design trends and regularly joining the conversation, Stacey has appeared on television, in print, on radio and the Internet. She competed as a finalist on Mark Burnett's production of HGTV Design Star.