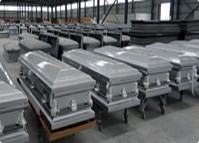 (PRWEB) November 06, 2013
Recently, MillionaireCasket.com, a leading casket manufacturer based in China, has launched a wood casket promotion. The company released its new collection of wood caskets as well.
Now, all the wood caskets from MillionaireCasket.com are available now at discounted prices, up to 59% off. Each of them is a work of art with comfortable designs. According to the CEO of the company, their wood caskets are built in different sizes. The company accepts customized requests.
"We are excited to launch the promotion. We are always on the search for better and faster ways to create high quality caskets for our clients worldwide. We have confidence in our wood caskets," the CEO adds.
MillionaireCasket.com is becoming more and more popular in the world for high quality. The company has been updated and the sales staff online are ready to offer customers more detailed information about the specification, construction, exterior fittings and interior.
The company has been specializing in various types of caskets for many years. Wood caskets and metal caskets are its major products. It is a casket wholesale retailer providing high quality products at very affordable prices and has gained a great reputation in the casket industry. Besides caskets, it sells other funeral related products like stretchers, church trucks, body bags and urns.
About MillionaireCasket.com
MillionaireCasket.com is a popular China casket manufacturer, and specializes in the business of casket wholesale. It offers an exquisitely crafted line of all kinds of metal caskets, solid wood caskets, veneer caskets, cremation caskets, and many others. The standard quality control policy is strictly applied here, and a third party quality assurance is also available. Visit http://www.millionairecasket.com/category/product/solid-wood/ for more details.