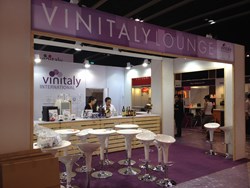 We are sure that a showcase like Vinitaly cannot but help local consumers get to know the geographical identity and historical importance of a Region like Tuscany.
Hong Kong (PRWEB) November 07, 2013
Spirits are high among Italian exhibitors today as the Vinitaly International Pavilion finally opens its doors to Chinese consumers at the Hong Kong Wine and Spirits Fair. The presence of 10 consortiums at this year's edition, more than double with respect to 2012, sends out an equally positive sign of change that can be read as a first tentative step of Italian wine producers towards a more coordinated action in the promotion of Italian wines abroad.
For many years now words like "teamwork","system","coordination" have acquired a strategic meaning when seeking to convey to foreign markets the richness, diversity and excellence of Italian wines, culture, territory and lifestyle.
"We have always believed in this and have made it our philosophy ever since the establishment of our Consortium back in 2010." explains Daniele Manzone, Director of I Vini del Piemonte "Especially when having to promote the same denomination abroad, it makes no sense to act individually. On the contrary, it is much more useful to present a united front under a same common denominator that is easier to identify and to recognize. Today we are a group of 131 small-to -medium sized producers and each year we are able to promote around the world, not only our wines, but also all that underlies the word "Piemonte": wine, food and tourism."
"Notwithstanding the many negative aspects brought on by the economic crisis we have been going through, we seem to also be witnessing a positive change in attitude and a new found awareness that a coordinated action can not only help producers save money but also achieve much better results in the long term" said Mr. Giavi, Director of Prosecco Doc, founded back in 1962 by a group of 11 producers with the aim of guaranteeing and improving the quality of Conegliano Valdobbiadene.
Andrea Ferrero, President of Piemonte Land of Perfection also expresses the need to join forces and create a united front. "This is more important than ever in Asia where wine consumption is rapidly growing and the market is destined to become number one in the world within the next few years."
The importance of China as a potential wine market is a fact that appears to be undisputed among all exhibiting Consortiums:
"It is our second year at the Hong Kong Wine and Spirits Fair." Says the President of Consortium Chianti, Giovanni Busi. "We chose to return this year because we believe that it is an event that the entire Italian wine sector cannot miss: since the Fair's first edition, in 2008, Asia's wine market has made an enormous leap forward thanks to an exponential increase in wine consumption. We are sure that a showcase like Vinitaly cannot but help local consumers get to know the geographical identity and historical importance of a Region like Tuscany."
Slow Food's wine guide, Slow Wine, is also present at Vinitaly Pavilion in Hong Kong, consolidating a collaboration that started on the occasion of Vinitaly New York back in January 2013. "Slow Wine considers this a unique opportunity to help the Far East get to know a new system of wine growing, strongly inspired by territoriality and sustainability criteria" explained Giancarlo Gariglio, co-editor of Slow Wine. "The fact that an increasing number of wineries have chosen to convey these values in foreign markets is undoubtedly a good sign for us. Our strategic collaboration with Vinitaly International will allow us to better coordinate the efforts of wine producers and together build a shared and united communication which will help promote the excellency of Italian wine in Hong Kong and in China."
About:
Veronafiere is the leading organizer of trade shows in Italy including Vinitaly (http://www.vinitaly.com), the largest wine event in the world. The 47th edition of Vinitaly counted some 148,000 visitors (+6%), of which 53.000 were international attendees (+10%) visiting from 120 countries. On 95.000 square meters, 4.200 exhibitors welcomed trade professional, media and producers alike. The next instalment of the fair will take place on 6th-9th April 2014. The premier event to Vinitaly, OperaWine (http://www.OperaWine.it) "Finest Italian Wines: 100 Great Producers" will unite international wine professionals on April 5th 2014 in the heart of Verona. Veronafiere also created Vinitaly International http://www.vinitalyinternational.com in 1998 to develop a global platform for the promotion of companies in the Italian wine and food sectors.