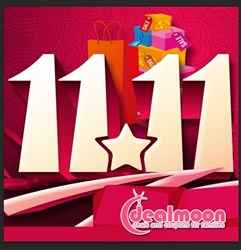 We will prepare some killer deals for this event.
California (PRWEB) November 08, 2013
Have you heard of 11/11, also known as Singles' Day?
Singles' Day was started by Chinese college students in the early 1990s. Originally, it was meant to act as a version of Valentine's Day for people without significant others. It got the name "Singles' Day" because the date consists of four "ones".
Since then, it has become more of a "shopping day," and merchants have found that it is a great opportunity to target savvy younger consumers and also an excellent way to jump-start the holiday buying season.
Singles' Day has grown into China's (and possibly the world's) busiest online shopping day. Last year, China-based Alibaba's Taobao and Tmall.com platforms took in over $3 billion in online sales on Singles Day. This is more than the U.S. had in online sales on Black Friday 2012 ($1.04 billion) and Cyber Monday 2012 ($1.46 billion) combined!
Dealmoon.com is the first U.S.-based deal & coupon site to organize exclusive Singles' Day promotions, with top brands and merchants such as Estēe Lauder, Clinique, Monster Products, Philosophy, Ashford, Peter Thomas Roth, Elizabeth Arden, NewEgg, Solstice Sunglasses, Drugstore.com, Ojon, Bobbi Brown, Darphin, Kay Jewelers, sasa.com & Perfumania participating. Several merchants are presenting offers which are comparable to their Black Friday offers; merchants such as Ashford have mentioned that they would "prepare some killer deals for this event."
Want to learn more about this exciting shopping holiday? Visit Dealmoon.com today to find out more!