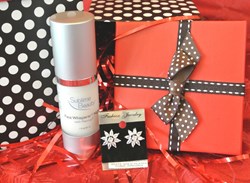 Men, she will absolutely love this gift!
St. Petersburg, FL (PRWEB) November 21, 2013
Men, this is a great gift she will absolutely love. And no gift wrapping necessary as the treasures come in a beautiful holiday box and red cello fill.
"We paired our popular Face Whisperer® Night cream with stunning cubic zirconia sunburst earrings that every woman would love," says Kathy Heshelow, founder of Sublime Beauty®. "Unfortunately, these are in limited supply."
The Face Whisperer® line has been highlighted on several television shows, including Consumer Newswatch TV (Ion and History Channels) this year, plus Netcast News (NCN).
Sublime Beauty® has paired a number of serums with fashion jewelry in beautiful boxes, to make gift giving easy this year. The jewelry ranges from modern bracelets to classic pearl strands, and each is paired with either collagen, hyaluronic serum or retinol serum.
The pairings are found on the Christmas guide pages of the website and there is a downloadable guide, too.
The cubic zirconia earrings are of high quality -and are for pierced ears. The company has some clip-back earrings in various styles as well.
Each box is protected in the warehouse and for shipping with a clear polybag. Sublime Beauty® uses Amazon for its warehousing, shipping and fulfillment services, so shoppers can benefit from free shipping.