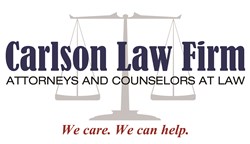 As attorneys and counselors at law, our job is to listen and really understand our clients' unique situations.
Austin, TX (PRWEB) November 07, 2013
Texas personal injury attorneys, R. Bruce Phillips and Michael Erskine, helped their client, who was hurt in a Travis County auto accident, to a $310,000 verdict, The Carlson Law Firm announced (Cause No. D-1-GN-00775, District Court of Travis County, Texas 345th Judicial District).
According to court documents sourcing police reports associated with the car accident, the firm's client was stopped at a red light at the intersection of FM 1626 and Twin Creeks Road. With no warning, their client's vehicle was struck by another passenger vehicle. Court documents revealed that the driver who failed to yield the right of way was later cited by officials. As a result of the collision, the attorneys said their client and her passenger experienced serious injuries.
"Every client who walks through our doors has a story," Managing Partner Craig Carlson said. "As attorneys and counselors at law, our job is to listen and really understand their unique situations. Our personal injury clients often endure life-altering circumstances and understanding how their lives have been rocked is an important part of seeking just compensation for them."
The $310,000 verdict marks the third multi-hundred thousand dollar verdict in 2013 for the Texas law firm, which serves clients from ten office locations across the state. The firm previously boasted verdicts of $803,000 in Bell County, Texas (Cause No. 248933-C, 169th Judicial District) and $652,372 in Hidalgo County (Cause No. C-2421-11J, 430th Judicial District).
"Every time we're able to make our clients lives a little easier and hold those who've acted negligently responsible for their actions, that's a victory for us. This verdict really represents something special for our firm. It's not every day that attorneys can say they've achieved three auto accident verdicts like we did this year. I'm so proud of our team," said Carlson.
With more than 25 attorneys, many with years of courtroom experience, The Carlson Law Firm has access to medical experts, private investigators and resources that give them confidence in the courtroom.
"Many of our cases never see the courtroom and we're able to successfully negotiate a just settlement for our personal injury clients," Carlson said. "Although taking a case through the litigation process can be difficult for our clients, we have an incredible, capable team of attorneys that are very confident in the courtroom. Filing a lawsuit is sometimes necessary in order to seek the best possible outcome for our clients and it's something we're ready and willing to do."
For more information about R. Bruce Phillips, Partner Michael Erskine and Managing Partner Craig Carlson or The Carlson Law Firm's recent verdicts in Texas, call 800-359-5690 or visit http://www.carlsonattorneys.com