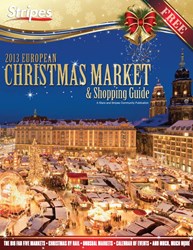 "Imagine cupping your mittens around a cup of spiced wine as the aromas of roasted meats and assorted nuts dance around you."
Kaiserslautern, Germany (PRWEB) (PRWEB) December 03, 2013
With the European Christmas Markets & Shopping Guide, you get a detailed view of Europe's best Christmas markets and festivals.
The Stripes European Christmas Markets & Shopping Guide helps overseas U.S. military and other visitors to Europe make the most of the coming holiday season:

Find delicious foods to devour at Christmas markets in Copenhagen, Rothenberg, Brussels and Dresden
Discover traditional old world scenery in Basel's market, featuring the longest Christmas street in Europe
Explore the quaint scenery from by train or venture off to a mystic Christmas Cave
Encounter a vast selection! Over 200 booths at some of the largest markets in Europe can be found in Frankfurt and Mannheim
No matter what you're looking for this Christmas, the Stripes European Christmas Markets & Shopping Guide has what holiday visitors need: dates and locations for markets and events all around Europe.
"There is so much to see here and it can get a little overwhelming trying to plan a trip, but the European Christmas Markets & Shopping Guide helps discover hidden places to travel to and create unforgettable memories," said Jessica Soto, a military spouse stationed in Ramstein, Germany. "Imagine cupping your mittens around a cup of spiced wine as the aromas of roasted meats and assorted nuts dance around you."
Europe's Christmas markets offer an authentic way to enjoy this magical season, whether you are looking for handcrafted gifts, specialty foods, holiday music or simply just want to soak up the atmosphere at the market square. Find the European Christmas Markets & Shopping Guide online today.
Stars and Stripes reports on military matters as the only independent source for news and information operating inside the U.S. Department of Defense that serves the global U.S. military community. Editorially independent of any outside interference and influence, Stars and Stripes provides commercially available U.S. and world news and objective, factual staff-produced stories relevant to the military community it serves.
In addition to providing news in print, Stars and Stripes offers its unique reporting on stripes.com, through the Stars and Stripes iPhone App, now available on the App Store, and through subscription to free email newsletters.