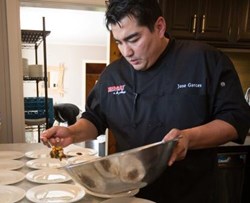 Cook Like a Pro at Home – And Enter to Win Chef Jose Garces' Latin Road Home Cookbook
Reading, PA (PRWEB) November 07, 2013
Want to introduce a little South American flair to the all-American Thanksgiving turkey dinner? A fresh, new recipe you may want to try this year is Chef Jose Garces' zesty chorizo-cornbread stuffing.
Chef Garces loves stuffing as a holiday side and likes to make his own special blend of succulent and spice. According to Garces, "stuffing is always everyone's favorite side at any holiday celebration – during the meal and for leftovers – so I always make sure to have extra on hand. This version has a hint of spice from the chorizo, and stays super moist thanks to the cornbread."
When cooking this special holiday dish, Chef Garces turns up his BlueStar pro appliance to provide a cooking experience in his home that only can be matched by a restaurant kitchen environment. Chef Garces designed his BlueStar for the comfort of cooking at home – a white 48-inch RNB model with griddle and also installed a high-performance, extraordinarily beautiful Prizer Hood in the kitchen of his country retreat – a perfect setting for any holiday gathering. Chef Garces says he loves his BlueStar because, "the precise control available to me from my BlueStar oven ensures a perfect result every time, with an even temperature throughout the stuffing. I don't have to worry about overly crispy edges with an underdone middle."
Enter to Win Chef Jose Garces' Latin Road Home Cookbook
Since opening his first restaurant in 2005, Chef Jose Garces has emerged as one of the nation's leading chefs and restaurateurs. Today, he is the owner and operator of more than a dozen restaurants in five cities. He is the 2009 winner of the James Beard Foundation's "Best Chef Mid-Atlantic" award and one of only a few chefs in the country to hold the coveted title of Iron Chef. In addition, Chef Garces is the owner of 40-acre Luna Farm in Bucks County, PA, where he and his team grow much of the produce for his Philadelphia restaurants. He is also the proprietor of one of the nation's best-loved food trucks, Distrito Taco Truck. His newest cookbook, The Latin Road Home (Lake Isle Press, October 2012), a culinary and cultural tour of Ecuador, Spain, Mexico, Cuba and Peru, can be yours – CLICK here on Facebook and enter for a chance to win.
Handcrafted in Reading, PA since 1880, BlueStar® cooking products are designed for discerning home chefs who demand restaurant-quality results in their own kitchens. The BlueStar® product line features high-performance gas ranges, cooktops, wall ovens and hoods. BlueStar's unique performance features include an open gas burner system that produces up to 25,000 BTUs of cooking power, precise 130 degree simmer burners, and oversized convection ovens with professional-grade infrared broilers. Available in over 750+ colors and finishes, and with almost infinite configuration possibilities, BlueStar® premium cooking products offer virtually unlimited personalization options.