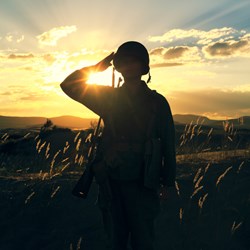 Words alone cannot express how thankful we are, so we've decided in our small way to give back to them.
Chicago and Toronto (PRWEB) November 08, 2013
To show our gratitude to the men and women who have served our country, WarmlyYours is donating $2 to Homes for Our Troops for every U.S. sale made over the phone or through the WarmlyYours website November 11-15. Homes For Our Troops (HFOT) is a nonprofit organization dedicated to providing homes for veterans with severe injuries or disabilities. HFOT raises funds, collects building materials, and coordinates professional labor to build customized, accessible homes for veterans and their families, at no cost to them.
Veterans, more than anyone, understand the importance of home. They have dedicated their lives to defending our country and protecting those at home—even when that means they have to leave their own homes and families far behind.
"At WarmlyYours, we believe it's important for us to support veterans who, through their sacrifices, have made it possible for us to enjoy the freedoms we have in this country. Words alone cannot express how thankful we are, so we've decided in our small way to give back to them," says Julia Billen, president and owner of WarmlyYours Radiant.
Homes for Our Troops is currently working on a project in Joliet, Ill. for the benefit of USAF Capt. Anthony "Tony" Simone and his family. Capt. Simone was on his third deployment when his crew was shot down during a rescue mission in Helmand Province, Afghanistan in June 2010. Five service members were killed. One of two crew members who survived the crash, Capt. Simone sustained a traumatic brain injury and other injuries and has been receiving treatment and therapy to facilitate his recovery ever since. Capt. Simone, his wife Andrea, and their two young children are thankful for the opportunity provided by Homes for Our Troops and look forward to moving into their own fully accessible home soon.
WarmlyYours is honored to be a part of Homes For Our Troops' efforts around the country. "We are eager to help veterans like Capt. Simone and his family not only to find a comfortable home that meets all of his needs, but also to welcome them into a community where they can put down roots and begin their future," says Billen.
Homes For Our Troops coordinates about 30 home building projects a year and is in its ninth year of serving veterans and their families. "Working with companies like WarmlyYours helps get the word out about who we are and what we do," said Chris Mitchell, Community Fundraising Coordinator at Homes For Our Troops. He adds that company programs not only raise funds for HFOT, but also help raise awareness in the community. "We rely on a good amount of local volunteers. We are always looking for volunteers and fundraising opportunities," said Mitchell.
Contact a WarmlyYours account representative from November 11-15 at (800) 875-5285 to place an order and increase WarmlyYours' contribution to Homes For Our Troops.
In addition to the November sales donation drive, WarmlyYours supports veterans year round by offering them a 15% discount on purchases through our Military and Hometown Heroes Discount program. Additional details about the program are available at WarmlyYours.com.
For more information about Homes For Our Troops, volunteering and fundraising opportunities visit http://www.hfotusa.org or email Chris Mitchell, Community Fundraising Coordinator, at cmitchell(at)hfotusa(dot)org.
About WarmlyYours Radiant
Since 1999, WarmlyYours Radiant has offered the industry's most innovative solutions in radiant heating technology, from our flagship floor heating systems and radiant wall panels to snow melting products and towel warmers. With locations in the U.S. and Canada, WarmlyYours provides unrivaled personalized customer support from start to finish, featuring measuring and design services, 24/7 technical support, and our NoNonsense™ Warranty. For more information, visit http://www.WarmlyYours.com.
MEDIA CONTACT:
Cassie Peterson
Director of Communications
WarmlyYours Radiant
Direct: 847-550-2464
Main: (800) 875-5285, ext. 864
cpeterson(at)warmlyyours(dot)com