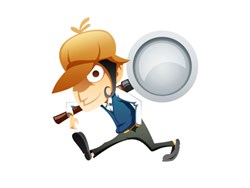 From companies that need help with debt collection or in finding missing clients, to private investigators who need assistance locating missing people, Detective Desk offers an outstanding variety of features
Newport Beach, CA (PRWEB) November 07, 2013
Detective Desk, a brand new search system that was designed for finding people, has just launched its user-friendly website. The Australia-focused service offers some of the most innovative and effective skip tracing tools on the market.
From companies that need help with debt collection or in finding missing clients, to private investigators who need assistance locating missing people, Detective Desk offers an outstanding variety of features. These include name and address search, reverse phone search, free-text search, email and date of birth search, various validation tools, geocoding, and fuzzy matching, which includes nickname matching. In addition, Detective Desk offers SkipRM, an advanced CRM that was created expressly for finding people.
"We give you unlimited searches throughout our database, containing hundred of millions of records on Australian residents and businesses," an article on the new site explained, adding that their data is always current and designed so people can easily locate the information they really need.
"We have built an advanced search tool that does everything our competitors (FCS Online, Acceleon, Veda eTrace) do, and a load more. We have more data than our competitors, with over 230 million records in our database, going back over two decades."
For people who need help finding missing debtors or assistance with their private investigation cases, the friendly and experienced team is happy to answer any questions. They can help people find potential leads quickly and easily, and they also offer free demonstrations and trials of the service to potential customers. The team also works hard to make sure the platform is stable and helping companies and others find the people they are looking for.
Anybody who would like to learn more about Detective Desk is welcome to visit the new website at any time; there, they can read more about the way the system works, as well as customer testimonials from those who have already used it.
"Detective Desk is a great product and I would recommend it to any professional Skip Tracer to assist in locating anyone in Australia," wrote Martin Hatch from VerifEye Investigations.
"I for one will keep using this product as it keeps improving everyday."
About Detective Desk:
Detective Desk is the newest and most innovative player in the skip tracing tools market in Australia. Putting it in short, Detective Desk helps companies in Australia find people. For more information, please visit https://www.detectivedesk.com/