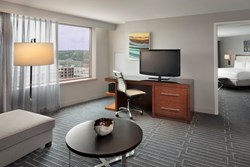 We are committed to supporting our Cincinnati community, and by partnering with Cincinnati's Ronald McDonald House, it is a natural extension of our mission to provide authentic hospitality, and to make a difference in the lives we touch every day
Cincinnati, OH (PRWEB) November 11, 2013
Downtown Cincinnati's Hyatt Regency Hotel announced today that a portion of its new Thrive guest suite revenues will benefit Cincinnati's Ronald McDonald House located at 350 Erkenbrecher Avenue. From November 1, 2013 – October 31, 2014, 10% of revenues generated by guests that book and stay in the suite, will be donated to Cincinnati's Ronald McDonald House, which provides a "home away from home" for critically ill children and their families who have come to Cincinnati to receive medical treatment for life-threatening illnesses. The Thrive suite is newly refurbished and features modern furnishings, a separate living room area overlooking the Ohio River, two LG 42" flat screen televisions and a brand new bathroom. The hotel's donation to Cincinnati's Ronald McDonald House supports Hyatt's "Thrive," the company's global effort to support the communities Hyatt guests and associates work and live in.
"We are committed to supporting our Cincinnati community, and by partnering with Cincinnati's Ronald McDonald House, it is a natural extension of our mission to provide authentic hospitality, and to make a difference in the lives we touch every day," said Bruce Flyer, General Manager, Hyatt Regency Cincinnati.
"We are so grateful to our friends at Hyatt Regency Cincinnati for their continued support of the families living at Cincinnati's Ronald McDonald House," said Executive Director Jennifer Goodin. "Hyatt Regency Cincinnati and their customers are truly making a meaningful difference in the lives of families with critically ill children."
For information and reservations at Hyatt Regency Cincinnati, visit: cincinnati.hyatt.com.
To learn more about Hyatt Thrive, please visit: http://www.hyattthrive.com.
About Hyatt Regency Cincinnati
Hyatt Regency Cincinnati, a 491 guest room hotel, is located at 151 West Fifth Street. All guestrooms are newly renovated and feature: neutral tones with red accents and incorporate new bedding, wall coverings, drapes, workstations, carpeting, mini-refrigerators, safes and LG 42" flat screen televisions, pillow-top Hyatt Grand Beds™, iHome alarm clocks and large workstations with high-speed wireless internet access. Guests enjoy amenities like the hotel's new Red Roost Tavern, that serves farm to table cuisine and local spirits. The hotel's 26,000 square feet of meeting space is flexible for both groups and conventions, and more intimate social events like weddings and Mitzvahs. For more information and reservations visit: cincinnati.hyatt.com or call: 513-579-1234.
About Hyatt Regency
Hyatt Regency offers a full range of services and facilities tailored to serve the needs of meeting planners, business travelers and leisure guests. Properties range in size from 180 to over 2,000 rooms and are conveniently located in urban, suburban, airport, convention and resort destinations around the world. Hyatt Regency convention hotels feature spacious meeting and conference facilities designed to provide a productive environment allowing guests to convene and connect. Hyatt Regency hotels in resort locations cater to couples seeking a getaway, families enjoying a vacation together and corporate groups seeking a functional and relaxed atmosphere in which to conduct business and meetings.
About Ronald McDonald House
Families from throughout Ohio, across the United States, and from around the world come to Cincinnati seeking life-saving treatment for their critically ill children. Often times, they come to Cincinnati exhausted, scared and financially drained as they struggle to pay overwhelming medical bills. Cincinnati's Ronald McDonald House is here to care for 78 guest families every night, providing them with a "home away from home" while their children receive medical treatment. In addition to providing a comfortable bedroom, the House surrounds families with love and support from volunteers, staff and other guest families who share the same hopes and fears. The House also provides home-cooked meals, activities, indoor and outdoor play areas, laundry facilities, computers and WiFi, and much more so that our guest families can concentrate on what is most important – their critically ill children. For more information about the House, please visit http://www.rmhcincinnati.org or call (513) 636-7642.