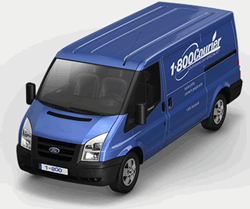 Atlanta, GA (PRWEB) November 11, 2013
1-800 Courier announces weight limits for small vehicles. The same-day courier has made the announcement in an effort to inform customers of its' small vehicle delivery options, expand its' current client base and increase sales growth. A-1 Express strives to be the best choice for same-day delivery throughout the US.
The small vehicles can carry up to 4 pieces per delivery order, with a weight limit of 50 lbs per package or box. 1-800 Courier drivers utilize small vehicles for the benefit of gas and delivery efficiencies. Small vehicles primarily are for packages and boxes that can be easily carried from within the origin location, regardless if the item is at a business suite on a high floor or the ground floor front desk. Therefore, small vehicles are limited regarding the number of boxes and weight capacity that 1-800 Courier allows to be picked up.
The destination also is taken into consideration, being the location could be on a high floor or up several flights of stairs. Small vehicle weight limits aid 1-800 Courier to be able to deliver quickly. Even if the driver has to utilize a hand truck, the boxes can be delivered easily and without damage. Since the items are small, 1-800 Courier can also have one driver perform multiple deliveries within a certain city radius, resulting in effectively meeting the same-day delivery needs of its' customers.
1-800 Courier not only provides same-day delivery utilizing small vehicles, but also minivans, trucks, sport-utility vehicles, cargo vans, and 24-ft box trucks. For any small vehicle questions, the courier is available 24/7 to discuss any same-day delivery needs. For any special service requests or scheduled delivery services, 1-800 Courier also has a sales staff equipped to develop an optimal same-day delivery solution.
1-800 Courier is a premier same-day courier offering transportation and distribution services. From small packages to palletized freight, 1-800 Courier delivers fast. As a leader in the courier industry, their goal is to perform optimal courier logistic solutions and superior customer service every time. This Tampa Courier provides same-day delivery successfully for over 1,500 clients, including Fortune 500 companies nationwide.