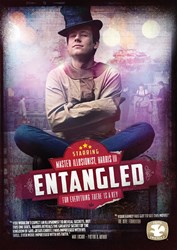 Harris III takes you on a journey filled with wonder, inspiration and life-changing truth.
Shippensburg, PA (PRWEB) November 20, 2013
After months of anticipation and a nationwide tour, Destiny Image Films is pleased to announce the world-wide release of Harris III's, "the master of misdirection," feature film, "Entangled."
"Entangled" takes the audience through an innovative blend of narrative film and Harris' "live" show experience.
Best-selling author, Max Lucado said, "Harris III presents hope through a side window. You wouldn't expect an illusionist to reveal secrets, but this one does. Harris reveals the greatest secret of the Kingdom of God, Jesus Christ. I was impressed with his skill. Even more impressed with his faith."
A classically trained master illusionist, Harris spent the majority of his young life dazzling audiences. His performances have been featured on thousands of stages throughout the United States, and his magic-with-a-message has captured the spotlight in over 15 countries on five continents.
In this highly anticipated project, Harris takes you on a journey filled with wonder, inspiration and life-changing truth. This master communicator has created a never-before-seen style of illusion that is unmatched and uniquely his own.
The Dove Foundation said, "Your family has got to see this film!"
A product line based on the film will follow the film's release in spring 2014. This will include books, curriculum, teaching DVDs and more.
Audiences can go behind the scenes of this amazing film with videos on Harris' YouTube channel at: http://www.youtube.com/user/HarristheThird.
Destiny Image Films, a division of Nori Media Group, endeavors to tell inspirational stories that will touch and change lives. We partner with filmmakers to produce top quality feature films. We then package the films for the world-wide market, distributing to mainstream retail outlets, mass merchants, independent video and bookstores, domestic and international broadcasting markets, video-on-demand, streaming and rental markets.
Lucid Artist Management, a division of Mike Atkins Entertainment, is a full service entertainment company specializing in artist management, brand development, strategic content creation and content brokering. Lucid Artist's ultimate goal is to promote the Creator creatively.
Harris III is an award-winning master illusionist who has spent more than a decade communicating life-changing truths about the tricks and deceptions played on people. He has earned respect as an artist, but to many, he is an equally respected communicator. Whether telling a story, speaking candidly from his heart, or performing magic, his ultimate goal is to inspire and challenge people, initiating change and transformation. For more information about Harris III, visit his website:http://www.HarrisIII.com.
FOR PRESS INQUIRIES, INTERVIEWS AND REVIEW COPIES:
Kristen Adams
(717) 530-3040, Ext. 135
kadams(at)norimediagroup(dot)com