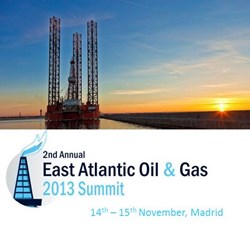 It's an IRN Summit!
(PRWEB UK) 11 November 2013
The 2nd Annual East Atlantic Oil and Gas 2013 Summit, organised by global Summits organiser IRN, is taking place this week on 14th – 15th November at the Melia Princesa Madrid Hotel. The summit is the only high-level meeting focusing on oil and gas prospects and opportunities in Spain, Portugal, Morocco, Mauritania and France collectively; countries that hold significant resources and represent a great opportunity for investment and new developments.
Hosna Mustaphi, Head of Hydrocarbons Exploration and Production Department from the Ministry of Energy, Mines, Water and Environment in Morocco will be speaking regarding the hydrocarbons in Morocco along with a senior representative of Circle Oil.
Max Torres, Exploration Director of Repsol, will thoroughly analyse Repsol's E&P activities in Spain, Morocco, Portugal and Mauritania. In addition, Karl Teviotdale, the General Manager of Leni Gas & Oil Plc, Francisco De La Flor, the Regulations Director of Enagas, and Juan Carlos Muñoz-Conde, the Corporate General Manager of Bnk España will share their expertise at the Summit.
Furthermore, companies in attendance at the Summit will include Bnk España, ACIEP, Elengy (GDF SUEZ Group), Circle Oil, Institut Polytechnique LaSalle Beauvais, CNWL Oil España, Divisão para a Pesquisa e Exploração de Petróleo (DPEP), Solmed Alliance, CNWL OIL (ESPANA) S.A. – Sherritt International Oil & Gas, Axel Springer, Cairn India, Baker Hughes, Impact Oil & Gas, CLIFFORD CHANCE LLP, PetroSaudi International, ERM-Environmental Resources Management, Voith Turbo, BNK, Direção Geral de Energia e Geologia, Tullow Oil, Ayesa, Providence Resources PLC, Cairn Energy, Repsol Exploration and Genel Energy among many others. In addition, Cypriot, French, Irish, Argentinian, Azeri, Kuwaiti, Brazilian, Italian, Norwegian, South Korean, and British Governmental Officials, will also be in attendance.
IRN will be closing registrations on Tuesday 12th November .More information about the 2nd East Atlantic Oil & Gas 2013 Summit is available online at http://www.eastatlanticsummit.com.