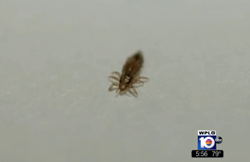 Reported Cases of "Super Lice" on the Rise at Schools
Miami, FL (PRWEB) November 10, 2013
They're not your average lice & nits because most are resistant to the usual chemical treatments sold at the pharmacies.
There's a lot of misinformation on the internet about this and how to get rid of these pesky bugs.
Head lice has nothing to do with cleanliness or hygiene. They love clean hair. Like the common cold, it's something that happens to just about everyone at some point, especially children, who share hats and combs, who hug and touch hair. About one in every four children get head lice in school.
"The types of outbreaks we hear about are usually at the beginning of the school year or after every vacation break," Jennie Harel said.
Even so, the reaction is predictable.
"The kids are really embarrassed. They get really embarrassed with it," Mariana Simbra, a nurse at a school in Miami Dade County, said.
Lice are parasites that firmly attach to hair close to the scalp, especially at the neck and behind the ears. They need warmth and blood to survive.
Jennie states "the best way to find out of your child has a case of head lice is by combing the hair with a metal comb".
The first sign you might notice is itching.
"A lot of times the kids come up to us and say, Ms. Harel, my head is itching today. Can you check it?" Harel said.
Lice is easily treated with going to the Lice Troopers Salon or by scheduling a house call. Over-the-counter medicated shampoos and sprays containing the active ingredient permethrin do not work.
Lice Troopers are able to get rid of the head lice in one treatment. The Lice Troopers will also provide you with a lice checklist of what needs to be done at home.
"When you look in the literature there's more and more reports of resistance among head lice," Dr. Gehris said.
About half the patients that come to the clinic have tried to use the chemicals that do not work.
"Some of them unfortunately are flammable. They have extreme odors, so it's not something pleasant to try," Dr. Gehris said.
Other remedies, like mayonnaise, olive oil, vinegar, or heavy moisturizers to suffocate or dislodge the lice also aren't effective.
The Lice Troopers clinic is located in Miami & also offers house calls. Call them at 800-403-5423 or visit http://www.licetroopers.com to consult on the best way to get rid of your child's lice.
More about Super Lice resistance can be read at http://pittsburgh.cbslocal.com/2013/10/10/reported-cases-of-super-lice-on-the-rise/.