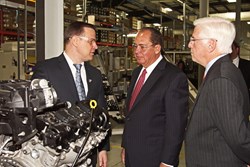 Sogefi's decision to grow its Wayne County operation is a vote of confidence in all the things we've done to make West Virginia a great place to do business. - Gov. Earl Ray Romblin
Charleston, WV (PRWEB) November 13, 2013
Italian auto parts manufacturer will invest $20 million in Prichard, W.Va. plant.
Gov. Earl Ray Tomblin announced, today, Italy's Sogefi Group will add at least 250 new jobs in an expansion of its auto parts plant in Prichard, W.Va. The agreement unveiled today was struck last month in France, where Gov. Tomblin met with Sogefi Group CEO Guglielmo Fiocchi during his European investment mission. The company considered several other sites for this expansion before ultimately deciding on their Wayne County facility.
"West Virginia offers tremendous value for businesses who need a top-notch workforce and a winning business climate," Gov. Tomblin said. "Sogefi's expansion underscores the competitive edge that's attracting more and more businesses to our state."
"I've said time and again, I will go anywhere to bring more good-paying jobs to West Virginia," Gov. Tomblin continued. "When I met with Mr. Fiocchi last month in France, he praised West Virginia's hardworking people and his company's experience in the state. Sogefi's decision to grow its Wayne County operation is a vote of confidence in all the things we've done to make West Virginia a great place to do business."
Sogefi's Wayne County plant, which opened in 2004, manufactures parts for automobile engines, including fuel pumps, fuel filters, and oil filters. Parts from the company's West Virginia plant are used by global automotive giants including Toyota, Ford, Fiat, Chrysler, BMW, Nissan, Mazda, Hyundai, and Kia. The plant produces more than 5 million pumps and filters every year.
With the $20 million expansion announced today, Sogefi will add engine intake manifolds to its Prichard product line. An intake manifold delivers the combustion air that powers an automobile engine. The Prichard plant will manufacture intake manifolds for General Motors, adding yet another major auto producer to the plant's customer list. The plant will continue manufacturing integrated fluid filtration products.
"The plant that we opened in West Virginia in 2004 was the first entry of Sogefi S.p.A into North America," said Fiocchi. "Our company has had great success in West Virginia, and we consider the partnership with the state and local government officials to be important factors."
"I am pleased about the great news for Wayne County and the entire region. Sogefi is growing and that means our economy is improving," said Gary Walton, president of the Huntington Area Development Council (HADCO). "When HADCO built the spec building that grew into Allevard Sogefi USA, Inc., this was exactly what our board of directors envisioned: more employment and more private investment. This development would not have happened without tremendous cooperation among federal, state and local government."
The expansion announced today has been under discussion between Gov. Tomblin and Sogefi officials since last year. The West Virginia Development Office, HADCO and the Wayne County Economic Development Authority collaborated on the expansion project.
Plant modifications, which include repurposing the plant's existing space of 215,000 square feet of production, warehouse and office area, are scheduled to begin in January 2014 and finish by May. New equipment is set to arrive beginning in May and through August 2014. Financing for some of the equipment has already been approved by the West Virginia Economic Development Authority.
Hiring for skilled positions - engineers, quality staff, supervisors and maintenance technicians - will start in January 2014. Production positions will be added gradually from around April through August. Prospective employees may apply by mailing resumes to Allevard Sogefi USA, Inc., 1389 Round Bottom Road, Prichard, WV 25555. For more information, applicants can call (304) 781-7700.
Sogefi Group is a leading global supplier of original parts for the automotive industry. Sogefi designs, develops and produces filtration systems and flexible suspension components, as well as air management and engine cooling systems. Established in Italy in 1980, Sogefi has a business footprint in 21 countries on four continents, with 43 production sites and 18 sales offices.
Follow us on Twitter @GovTomblin.
# # #
Contact: Amy Shuler Goodwin; 304-558-4977