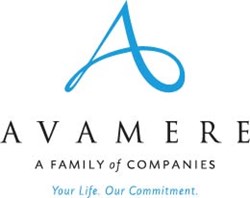 Keizer, Oregon (PRWEB) November 08, 2013
Avamere Family of Companies is set to break ground for construction of a new memory care community – located at 450 Clagget Court North – next to the existing Avamere Court at Keizer retirement campus.
The $7.8M project will create 48 private memory care units designed to provide a compassionate environment for seniors suffering from Alzheimer's, dementia, or other mental illness to receive specialized care. Avamere Court at Keizer currently offers 69 skilled nursing beds, 50 residential care apartments, and 96 independent living apartments. The memory care expansion will give residents of Marion County a comprehensive choice for skilled nursing, rehabilitation, assisted living, and independent living options for aging adults.
"The Avamere mission is to enhance the life of every person we serve," says Cheryl Anderson, Regional Director of Operations. "And through that mission, we strive to have the facilities and services available to accommodate all stages of active aging for those under our care to live comfortable and independent lives."
According to the Alzheimer's Association, more than 5 million Americans are living with the disease today; and that number is estimated to increase by 40% by 2025. The Avamere Family of Companies endeavors to stay ahead of older adult health trends by constantly innovating its clinical practices.
The memory care community at Avamere Court at Keizer was designed by the Oregon firm CB | Two Architects and will be built by Meili Construction. The project is estimated to create between 80 and 100 new construction jobs in the area. The ground-breaking ceremony takes place on November 12, 2013 at 10:30 AM.
About Avamere Family of Companies
Founded in 1995 and based in Wilsonville, Ore., the Avamere Family of Companies began as a single nursing facility in Hillsboro, Oregon. Today, the Avamere Family is comprised of 46 Independent Living, Assisted Living, and Skilled Nursing facilities and three ancillary healthcare companies that provide an array of services including inpatient and outpatient rehabilitation, home care, home health, and hospice.
# # #
For more information about this topic, or to schedule an interview, please call Drew Hanson at 971-224-2831 or email Drew at dmhanson(at)avamere(dot)com.