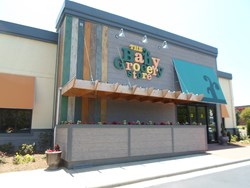 Our involvement with the Angel Tree is driven by our philosophy. - Darren Gann, President/Founder of The Baby Grocery Store
Charlotte, NC (PRWEB) November 18, 2013
Starting November 15, 2013 The Baby Grocery Store will begin accepting Christmas-wish donations for local underprivileged children through The Salvation Army's Angel Tree program. The non-profit organization has been helping children in need, ages 14 and under, to get their Christmas wishes for the past 21 years. Last year, Charlotte's Angel Tree program served over 13,100 children.
The Baby Grocery Store's core values are providing and caring for the next generation and what better way than giving back to the local Charlotte community. "We are thrilled to be part of such an impactful part of the Holiday season. Our involvement with the Angel Tree is driven by our philosophy." said President & Founder Darren Gann.
The Angel Trees in The Baby Grocery Store and other participating locations are decorated with angel tags that provide the recipient child's first name, age, gender, clothing size, and 3 gift wishes. Gift contributors remove the tag and purchase the appropriate gift(s) for the child and bring back to the drop off. Donated items are then picked up and distributed to the families during the week of December 18th at the Salvation Army Christmas Center in Charlotte, where staff members from The Baby Grocery Store will be volunteering. Given the toddler clientele at The Baby Grocery Store, the staff created an upcycled "tree" made from wood planks left over from the construction of the store, with no pine needles for any little ones to choke on.
Not all children are adopted from the Angel Tree, but The Salvation Army guarantees every family assistance with getting gifts to the children. To make sure all local children get their holiday wishes, you can visit The Baby Grocery Store at 10225 Park Rd, Charlotte, NC and adopt a child or go online to the WCCB-Charlotte Virtual Angel Tree.
About The Baby Grocery Store
The Baby Grocery Store has created a unique all-inclusive shopping experience that is revolutionizing how parents shop for baby essentials. They stock all-natural, organic and non-GMO food products that satisfy even the pickiest eaters. They also carry everyday necessities like cloth and biodegradable diapers, wipes, personal care items, carriers and slings, toys, and household items that come from companies that care about minimizing their environmental impact and maximizing your child's health and safety. For online shopping, resources and more, visit http://www.thebabygrocerystore.com.