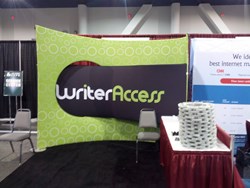 WriterAccess is perfectly positioned to offer quality, more than any of our competitors in the marketplace.
(PRWEB) November 12, 2013
Byron White, CEO, founder, and Chief Idea Officer of WriterAccess, the Boston-based website portal that matches clients and freelance writers, was part of a team that attended Pubcon Las Vegas. After a three year absence from the event, WriterAccess returned to showcase the company's growth in content marketing and present advances in content analytics.
Pubcon is considered the premier social media and optimization conference because it brings together the leading businesses, exhibitors, and speakers from the worlds of social media, search marketing, and Internet marketing. The event was promoted as one of the biggest gatherings of search and social media innovators ever assembled. It featured a major keynote address by Google's webspam team leader and head quality control engineer, Matt Cutts. Cutts, who was instrumental in making Google one of the world's most successful businesses, offered a unique insider's take on the future of search marketing.
White had previously spoken and exhibited at the conference, but felt it was important to return this year both to keep up with current events in the industry and to inform attendees of major advances WriterAccess has made to improve clients' ability to benefit from search marketing. "We had no idea that so many of our customers would be attending Pubcon," noted White. "We greatly enjoyed being able to meet face-to-face with our customers, learning about their businesses and explaining how our platform and workflow is more focused in the cloud."
Recent innovations from the website content provider to keep up with changes in the search marketing industry include a Content Analytics feature, editorial calendar, and a new brand design which insures content is created to each client's exact specifications. Team members talked to Pubcon attendees about content marketing, passed out copies of the company's marketing kit and distributed samples of White's book, The Content Marketing Roadmap: Tips, Tools and Tactics to Win the War of Words on the Web.
White said that WriterAccess continues to take advantage of every opportunity to learn about and discuss the content marketing process so it can find even more opportunities to improve the way clients use freelance writers. "Finally, quality content is surfacing as the gateway to achieving online success," he concluded. "WriterAccess is perfectly positioned to offer that quality, more than any of our competitors in the marketplace."
WriterAccess is an online marketplace connecting customers directly with expert writers. It's a Platform-as-a-Service developed by ideaLaunch, a leading provider of content marketing services and solutions. The company's mission is to streamline content creation with great writers and editors that all have the passion, expertise and experience needed to help grow a business organically—the content marketing way. Visit the website and Facebook page or call 617-227-8800 for further information.