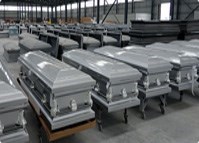 (PRWEB) November 10, 2013
MillionaireCasket.com, a leading casket manufacturer from China, has launched a special offer on all of its caskets for the casket wholesalers worldwide, especially those in the North America and the Europe. Any order of 5 caskets or more can get a special discount, up to 35% off. This offer is valid until Nov. 28, 2013.
MillionaireCasket.com has over 10 years of experience in the industry, and it knows that the requirements for caskets form different clients are different. The company hopes to be a one-stop funeral supplier, and has invested much money in the latest technology in casket making.
"We are happy to launch the promotion, so that more and more customers can find an original casket factory in China. All our caskets are carefully treated to resist rust and corrosion. They are 100% manufactured with the premium-quality craftsmanship and materials, and each one comes with a special locking system," says the CEO of the company.
OEM orders are welcome here at MillionaireCasket.com; the company is providing different interior and exterior structure and decoration for the clients around the world. If anyone has some special requirements, he can contact with MillionaireCasket directly and he can get a fast reply in a few hours maximum. For more information about the caskets, please visit http://www.millionairecasket.com/category/product/metal-casket/
In addition, the company offers urns, embalming tables, church trucks, stretchers, church furniture, keepsakes and other related funeral products.
About MillionaireCasket.com
MillionaireCasket.com is a leading China casket manufacturer (more details at http://www.millionairecasket.com), and focuses on the business of casket wholesale. Besides caskets, MillionaireCasket.com also makes and supplies urns, embalming tables, church trucks, stretchers and more.