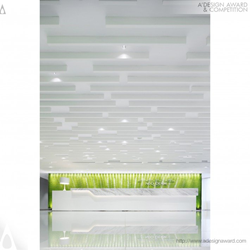 Como, Italy (PRWEB) November 12, 2013
A' Design Award and Competitions are pleased to announce that the design Neo Derm Center by Danny Chan and Viki Law has been acknowledged with the prestigious Silver A' Design Award in Interior Space and Exhibition Design Category.
Winner Design: Neo Derm Center
The Neo Derm Center is designed to resonate the theme of lines, while lime color highlights are just enough to demonstrate the energetic design brief for this particular skin care center. Beams of white dashing lines are running throughout the white ceiling and extending to the surrounding space with dynamics. The relaxation zone adjacent to the reception is set on a lime color tone from furniture to carpet that emphasizes the young and rejuvenated brand essence by over-viewing the Victoria harbor.
To learn more about this design, please follow: http://www.adesignaward.com/design.php?ID=26628.
Team Members for Neo Derm Center
Neo Derm Center was imagined by Director Danny Chan and Associate Director Viki Law
The Silver A' Design Award
The Silver A' Design Award is a prestigious award given to top 5% percentile designs that has attained an exemplary level of sublimity in design. The designs are judged by a panel of three different jury which is composed of Academic, Professional and Focus Group Members. The designs are evaluated with score normalization to remove any biases and are voted on aspects such as functionality, ergonomics, engineering, presentation, innovation, usability, fun details, technology, and any other specific points that could be considered, each of these points are further weighted for different jury groups.
About A' Design Award and Competitions
A' Design Award and Competitions, aims to highlight the excellent qualifications of best designs, design concepts and design oriented products. A' Design Award and Competitions are organized and awarded annually and internationally in multiple categories to reach a wide, design-oriented audience. Learn more: http://www.whatisadesignaward.com.