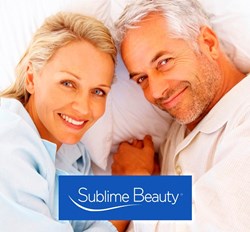 'These two big sales are until midnight (EST) Monday only,' says Heshelow. 'Don't miss out on exciting savings.'
St. Petersburg, FL (PRWEB) November 11, 2013
Don't miss out on two big sales today, Monday November 11th.
Sublime Beauty® offers 45% off on its very popular and sought-after Collagen Peptide serum with coupon code COLLAG45 at checkout. It also offers a whooping 60% on its new all-natural Daily Body Oil with coupon code DAILYMQ9.
"We wanted to surprise buyers with two big discounts on Veteran's Day," says Kathy Heshelow, founder of Sublime Beauty®. "We chose two products that would reward both our loyal repeat buyers as well as new customers. These items could make great holiday gifts, too."
The Collagen Peptide Serum features Matrixyl, a peptide which can double collagen product as shown in clinical tests this year at Reading University. "The serum is light and airy, absorbs well and can be easily used with day or night creams. Men love it, too," says Heshelow.
The Daily Body Oil was designed by Sublime Beauty® and a chemist with absolutely no chemicals, no additives and no fragrances. This is a healthy oil to moisturize and hydrate skin, and has the added benefits of anti-inflammatory and anti-aging qualities.
Purchasers of each product get a brochure all about the ingredients, background and research, sent by email after purchase.
Sublime Beauty® uses Amazon for its warehousing and fulfillment, and purchasers can benefit from fast shipping. Purchasers can also sign up for secret discounts and a monthly newsletter on the company website.