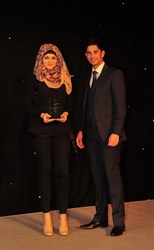 It is the support we receive from sponsors that makes it possible for us to celebrate and honour in a fitting way those who improve the lives of those we serve.
(PRWEB UK) 12 November 2013
As part of its lasting commitment to supporting Trusts and commending the outstanding achievements of NHS staff, ID Medical presented Shameem Zia Gissa with the 'Young Achiever Award,' an award which pays tribute to Michael McNally, a Finance Cadet whose young life was sadly cut short in 2011.
This award celebrates the achievement of an inspirational young person (aged 14 to 24) who has made an outstanding contribution to the life of a service user or the work of the Trust.
Harjit Nandha, Mental Health division manager at ID Medical, is pictured presenting Shameem Zia Gissa with her Young Achiever Award. Shameem, a clinical psychology student, took on the task of developing a booklet for Muslim carers and families to overcome the possible inequalities experienced by Muslim people with learning difficulties.
Harjit commented: "I felt extremely privileged to present Shameem with the Young Achiever Award.
"With 1 in 4 people in the UK experiencing a mental health problem, ID Medical understands the importance of having the sustained presence of highly specialised and committed mental health professionals to deliver high quality care to patients experiencing mental health difficulties.
"It is clear that Shameem has played a key role in helping Mersey Care become the esteemed and reputable mental health trust that it is today.
"Our involvement with Mersey Care's Positive Achievement Awards gave us the opportunity to join the trust in recognising those awe-inspiring individuals making a positive influence. I would like to say special thanks to Mersey Care NHS Trust for enabling us to be a part of the event and congratulations once again to all nominated staff."
Chief executive of Mersey Care NHS Trust Joe Rafferty said: "It is the support we receive from sponsors that makes it possible for us to celebrate and honour in a fitting way those who improve the lives of those we serve."
BBC TV Breakfast Show business reporter Stephanie McGovern and Everton footballing legend Derek Temple were also among the award presenters.
ENDS
About ID Medical
ID Medical (HQ in Milton Keynes with a dedicated office in central London) was established in 2002 and has since maintained its enviable position as market leader in the provision of high calibre medical staffing to both the NHS and private medical sectors. As the UK's leading provider of locum doctors, nurses, AHP/HSS and clerical staff, ID Medical holds preferred supplier contracts with over 80% of hospitals nationwide and supplies over 2 million hours to the NHS per annum.
Founded on its core principles of quality of service, dedication, innovation and commitment, the ID Medical Group Limited provides a complete medical staffing solution to its valued partners, forming part of the NHS procurement.
2013 has been a year filled with recognition of ID Medical's first-rate capacity to provide a premier level service to its valued candidates and clients, with the company firmly positioned within the annual Recruiter FAST 50 league, Sunday Times 100 Best Companies to Work for 2013, Investec Hot 100, Recruitment International Top 250 and the REC IRP Awards 2013. Most recently, ID Medical has been crowned the 'Best Recruitment Company to Work for' in the Recruitment International Awards 2013. This demonstrates the organisation's commitment to the industry whilst validating its credibility as market leader.
Mersey Care provides specialist inpatient and community mental health, learning disability and substance misuse services for adults in Liverpool, Sefton and Kirkby. It has a wider role too, providing medium secure services for Merseyside and Cheshire, and high secure services covering the North West of England, the West Midlands and Wales.
For further information on ID Medical please contact:
Caryn Cooper
Head of Marketing
ID MEDICAL - ID House - 1 Mill Square - Wolverton Mill South - Milton Keynes - MK12 5ZD
t: +44 (0) 1908 555 498
f: +44 (0)1908 552 825
w: id-medical.com
e: caryn.cooper(at)id-medical(dot)com