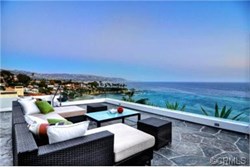 Enjoy unobstructed bay and ocean views from cliff-top decks or through walls of glass.
Laguna Beach, California (PRWEB) November 19, 2013
Windermere Homes & Estates is beyond thrilled to announce that they were selected to list one of the highest and most stunning homes in Laguna Beach, California. At a time when luxury real estate is slowly making its comeback, this is a huge honor for Windermere Homes & States. "We have a fantastic team in place to find the perfect buyers for this ocean front dream home," says Windermere Brokers and owners, Brian Gooding and Rich Johnson.
What makes this home so stunning is that it is the California Dream realized. With breathtaking panoramic views stretching across Crescent Bay and into Pacific Ocean sunsets, you'll know you've arrived to your own paradise. And stunning ocean views are just the beginning. Designed by architect Ed Lorbach, and boasting approximately 5,300 square feet of living space, this home is unique among coastal Laguna Beach real estate offerings.
Enjoy unobstructed bay and ocean views from cliff-top decks or through walls of glass. Entertain in the exotic surroundings of floors made from stone and Hawaiian Koa wood, cabinetry of Koa and mango wood, and many unique features. The luxurious master suite features en suite spa, wine room, and ocean-view terrace.
It's an entertainer's dream and a wonderful home for single executives, couples, and small families wanting to indulge in the Southern California lifestyle. Sandy Crescent Bay, just steps away, offers secluded swimming, surfing, body surfing, paddle boarding, skimboarding, snorkeling, scuba diving, wind surfing, and other beachfront activities. It's a protected area, so marine life abounds. In fact, Crescent Bay is often mentioned as one of the best snorkeling and dive sites in Laguna Beach, if not all of Orange County.
Spend an afternoon in the ocean or on the beach, and retire for cocktails and dinner on your rooftop deck as you watch the sun slide slowly over the horizon. Your guests will be dazzled.
You'll also be able to take advantage of the activities in and around Laguna Beach, Newport Beach, and Corona Del Mar. From shopping, art festivals and historical tours to wilderness parks and dolphin and whale watching, there's always something interesting and exciting to do. Laguna Beach is home of the Pacific Marine Mammal Center, the Laguna Art Museum, the historic Laguna Playhouse, and the world famous Pageant of the Masters.
The City of Laguna Beach is famously known for its unique artist's colony with over six miles of beaches running along the nine square miles that the city sits on. During the summertime, several million visitors are drawn to the city for its resort environment, picturesque beaches, and art festivals.
But no matter how you spend your time in Orange County, you'll never be more than a few miles from the comfort, luxury, and breathtaking views of your beachfront home.
If you're looking for an exceptional Southern California coastal property, you'll want to see this one-of-a-kind luxury estate. View the property details from the MLS here.