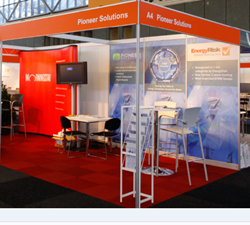 London, England (PRWEB) November 12, 2013
Pioneer representatives have been busy recently and closely following attendance at the OPIS National Supply Summit just a couple of weeks ago, now comes one of the biggest European events, EMART. Join Pioneer at EMART Energy 2013 November 26-27 in Berlin, Germany for one of Europe's most established premiere energy trading events.
The theme for this year's event is "Recharging the wholesale markets – a new identity for energy traders?" In its 15th year, EMART 2013 will bring together 850 plus energy trading professionals—50 percent of which are traders—and over 60 exhibitors for 2 days of topics and networking.
The conference will follow three separate streams and feature more than 70 industry speakers. Choose between Power Trading, Gas Trading, or Energy Market Supervision streams and hear topics such as:

Evaluating the power price drivers
The changing global and European gas fundamentals
Implementing REMIT & EMIR and Transaction Reporting
Find Pioneer's representative or visit our table in the exhibition hall to learn more about Pioneer's solutions or set up a no-obligation demo.
For more information about this event,visit the EMART Energy website.
About Pioneer Solutions
Pioneer Solutions is a global provider of next-generation CTRM, ETRM, environmental management and financial and regulatory compliance solutions. Pioneer's suite of solutions is based on their organically built, web-based platform, Financial and Regulatory Risk Management System (FARRMS), and offers comprehensive front, middle and back office process management for both physical and financial deals of all asset classes and commodity types.
The latest in business processing capability, Pioneer's products are web-based and template and formula-driven, providing the user a highly configurable environment for front- to back-office workflow automation of business processes. Ready 'out of the box' or tailored to customers' unique needs, their solutions allow for rapid implementation and fully integrate with existing systems.