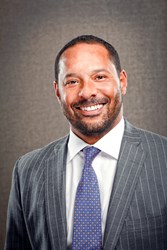 He's been described as an "architect of the deal," "a visionary," and an "unbelievable negotiator."
Baltimore, Maryland (PRWEB) November 11, 2013
Murphy, Falcon & Murphy is pleased to announce that Hassan Murphy, Managing Partner of the firm, has received the Leadership in Law Award from the Maryland Daily Record.
The Leadership in Law Award was created in 2000 to recognize individuals whose leadership, both in the legal profession and in the community, has made a positive impact in the state of Maryland. Mr. Murphy was honored for his skills as a litigator as well as contributions to the legal field and commitment to community service.
Mr. Murphy is one of 24 individuals to receive the Leadership in Law award. This year's winners will be honored at a reception Thursday, Nov. 14 at The Hotel at Arundel Preserve.
Since 1999, Mr. Murphy has been the managing partner of Murphy, Falcon & Murphy, providing the strategic vision which powers the firm's growth. He also remains an active attorney and negotiator, directly overseeing Murphy, Falcon & Murphy's largest and most complex cases. He has served as lead and co-lead counsel in cases which resulted in settlements in excess of $300 million, including negotiating a $54 million settlement for an environmental torts case without ever filing suit. In a wide variety of complex litigation situations, Mr. Murphy demonstrates that he is a consummate businessman. He's been described as an "architect of the deal," "a visionary," and an "unbelievable negotiator." His passion for navigating complex commercial cases is matched by a genuine enthusiasm for the courtroom.
As the son and grandson of prominent judges in Baltimore, it was natural that Mr. Murphy would also pursue the law, but he came to his chosen profession the same way he has led the rest of his life: on his own terms. Mr. Murphy is a natural entrepreneur born to a successful businessman. His great-great-grandfather founded the nation's first African American newspaper in Baltimore and his father is a legend among litigators, but it was his grandfather, Judge William H. Murphy, who first inspired him to become an attorney. Growing up in Baltimore, Mr. Murphy would watch his grandfather preside. He characterizes Judge Murphy as an exceptionally kind person who treated all people with dignity and respect, regardless of their background. The values of humility, self-determination and perseverance that Mr. Murphy's grandfather instilled in him have served him well in life, both in court and in the community.
After graduating from law school, Mr. Murphy became an attorney for Curtis, Mallet-Prevost, Colt, and Mosle – a New York-based law firm and one of the oldest in the country – focusing on international transactions. Mr. Murphy's business acumen served him well in this work as he oversaw corporate mergers and acquisitions, finance, and bankruptcy.
"I thrived on the excitement of making major deals around the world," said Mr. Murphy. As an attorney at Curtis Mallet from 1994 to 1997, Mr. Murphy represented such clients as a $4.7 billion takeover target, a major corporation during a $65 million asset sale, and another during a $500 million asset securitization.
Mr. Murphy was on a path to becoming a major player in the world of international corporate law when his father asked him to join forces and represent Don King, the boxing promoter, in a case of international wire fraud. It was this hard-won victory that laid the foundation for the remarkable success of Murphy, Falcon & Murphy. "It just got better and better and better."After receiving his bachelor's degree from Williams College in 1990, Mr. Murphy earned his J.D. from Georgetown University Law Center in 1994. Mr. Murphy is married with two sons and lives in Washington, DC.
About MFMRK
Murphy, Falcon & Murphy is a singular collection of elite Baltimore attorneys who share deep experience in complex civil and criminal litigation. Our common ethos is to be aggressive, proactive and, above all, tenacious when the interests of our clients are at stake. We act with one driving purpose: to win.
Based on the exceptional success rates achieved by our attorneys, it's clear we're serious about keeping this commitment to our clients. For more information, please visit us on the web at http://www.mfmrk.com.